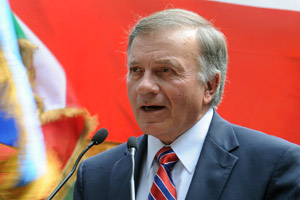 Fight disinformation:
Sign up
for the free
Mother Jones Daily
newsletter and follow the news that matters.
Tom Tancredo has told tea partiers that non-Christian immigrants should leave the country, accused Mexican border-crossers of plotting the next terrorist attack, and claimed last year that Supreme Court Justice Sonia Sotomayor was a member of the "Latino KKK." Having established himself as America's most infamous immigration firebrand, the former congressman hasn't left the spotlight since he departed from Capitol Hill in 2008. He's now within striking distance of the Colorado governor's mansion, having launched an improbable third-party bid against a hapless Republican candidate and an establishment Democrat.
Drawing just 9 points in the polls back in August, Tancredo has shocked political observers of all stripes staging last-minute surge in the final stretch of the election. Recent polls put him at an average of just 5 points behind his Democratic opponent, Denver mayor Dan Hickenlooper, while Republican Dan Maes is pulling single digits.
Tancredo hasn't hesitated from bringing his extreme views to the forefront: In a recent campaign ad, he accused Hickenlooper, of governing a "sanctuary city" for immigrants and contributing to the death of a local three-year-old killed by an illegal immigrant driver. Tancredo's recent comeback is particularly striking as Colorado not only flipped blue in the last presidential race, but also has a significant and expanding Latino population.
But while Tancredo is one of the biggest flamethrowers on the issue, he isn't the only immigration hardliner with a shot at the governor's office this year. Across the country, in states with burgeoning immigrant populations, more than a half-dozen Republican gubernatorial candidates who've vowed to impose stricter controls on immigration are now poised to take office. With congressional gridlock expected to overtake Washington after the midterms, state governments will be under even greater pressure to take action on immigration, putting a new slate of anti-immigration GOP governors on the front lines of a crackdown.
In Georgia, for instance, immigration has become the centerpiece of the race: Both Democratic and Republican candidates have vowed to replicate Arizona's controversial immigration law by requiring law enforcement personnel to question crime suspects about their immigration status. The Republican gubernatorial candidate, Rep. Nathan Deal, worked closely with Tancredo when the pair served together in Congress. Deal was an early supporter of a birthright citizenship bill that would deny granting citizenship to the children of illegal immigrants—a fringe idea that gained mainstream GOP credibility this year. Reprising claims that immigrants are mooching off of taxpayer-funded programs, Deal also tried in pushing through more stringent ID requirements for Medicaid beneficiaries.
"His career grade with us is an A-plus. He'll do anything that he's allowed to do to push illegal aliens out of the state," says Roy Beck, president of anti-immigration group Numbers USA, who predicts that Georgia is "one of the most likely" states to pass a law similar to Arizona's. Having vowed to enact an immigration crackdown early on in his campaign, Deal has benefited from the anxieties surrounding Georgia's immigrant community, which is one of the fastest growing in the US. He now leads his Democratic challenger, Roy Barnes, by 10 points in the latest polls.
In New Mexico and Nevada, two Latino Republican candidates have railed against their opponents for being weak on immigration, vowing to push through anti-immigration measures once they're in office. New Mexico's Susana Martinez ran a campaign ad accusing her Democratic opponent Diane Denish of offering "sanctuary for criminal illegals, like child molester Juan Gonzalez," who was charged with sexually assaulting a six-year-old. Martinez, a county attorney who established her career as a border enforcement expert, also vowed to repeal state laws allowing illegal immigrants to get driver's licenses and free in-state tuition through a scholarship lottery. During the primary, she slammed her opponent for backing "amnesty" for having supported a George W. Bush guestworker program. Endorsed by Sarah Palin, Martinez has consistently outpolled her opponent and is now expected to become the country's first female Hispanic governor.
Similarly, Nevada's Republican candidate for governor, Brian Sandoval, has voiced vocal support for Arizona's immigration law and opposed issuing driver's licenses to illegal immigrants. Though Sandoval, born to Mexican immigrants, certainly hasn't gone as far as Sharron Angle in lashing out against Latinos and immigrants, Hispanic groups in the state were taken aback by his shift rightward on the issue. Sandoval caught even more flak after saying he wasn't worried about racial profiling under an Arizona-type law because his own children "don't look Hispanic." But Sandoval's hardline stance on the issue hasn't dragged down his poll numbers: he's leapt ahead of his opponent Rory Reid, the son of the Senate majority leader, who trails him by double digits.
Both Martinez and Sandoval could also benefit from being minority governors who are better positioned to pass anti-immigration measures without alienating Hispanics, in contrast to polarizing fire-breathers like Angle or Arizona's Republican Governor Jan Brewer. Martinez "has the ability as a Hispanic candidate of not coming of as anti-Hispanic," says Matt Barreto, a University of Washington professor and head of polling firm Latino Decisions. He adds: "Sandoval, he's a bit of the same…it gives him the ability to differentiate himself from Sharron Angle." Likewise, South Carolina's Nikki Haley—who's likely to become the country's second Indian-American governor—has also voiced strong support for Arizona-style immigration legislation. Having also experienced a recent influx of immigrants, the state is among the four most likely to pass a copycat law, according to ImmigrationWorks USA, a pro-immigration group backed by the business community.
The likely surge of anti-immigration governors will also accompany a similar shift rightward in Congress, with Republicans are all but certain to take over the House. Reps. Lamar Smith (R-Texas) and Steve King (R-Iowa)—both well-known immigration hawks—are expected to assume key leadership positions on the House Judiciary Committee, which has jurisdiction over immigration issues. Just the same, congressional Republicans have already made it clear that their priority will be to obstruct legislation, not pass it. And states will be under increasing pressure to act on the issue. "The governors are the ones who can make the biggest difference on their own," says Beck.
Despite the legal challenges facing Arizona's law, some state governments and municipalities have shown no signs of holding back. In Nebraska, for example, Republican Gov. Dave Heineman put an immigration at the heart of both his 2006 campaign and his reelection bid this year, promising that one of his first priorities during his next term will be to make it easier for police to arrest illegal immigrants. And across the country, the next big immigration showdown is likely to form around a Supreme Court case challenging a separate Arizona law that requires all employers to verify the citizenship status of their employees or face sanctions. If the court upholds the law, conservative states could leap to legislate such verification—and anti-immigration governors could have a huge role in that battle.
To be sure, some of the inflammatory anti-immigration rhetoric that's surfaced this election cycle has been purely political in nature, meant to whip up a populist fervor rther than lay the groundwork for future action. But candidates like Deal and Martinez, who've long committed themselves to tougher immigration laws—and who've placed the issue at the heart of their campaigns—are likely to try and fulfill their campaign promises. "We won't know that until they start governing, but given that [these candidates] are saying the sorts of things they've been saying, you'll expect them to follow up," says Barreto. "And the Right is going to hold them to it."