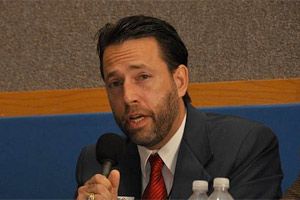 Fight disinformation:
Sign up
for the free
Mother Jones Daily
newsletter and follow the news that matters.
Joe Miller may be in trouble up in Alaska. On Sunday, after spending weeks trying to keep his personal history out of the campaign spotlight, the tea-party backed Republican candidate for senator finally admitted that he'd been suspended from his part-time job as an attorney with the Fairbanks North Star Borough for three days in 2008 for violating the borough's ethics policy. But the story didn't end there. Earlier this month, several Alaska media outlets sued for access to Miller's employment records. They won on Tuesday, after a judge ordered the release of Miller's employment files. What those documents reveal about Miller isn't pretty.
According to those records, Miller used multiple government computers to vote against state Republican Party Chairman Randy Ruedrich (a position he wanted for himself) in an online poll. He then cleared out the caches on the computers to cover his tracks and lied about the whole episode, multiple times. It was the lying that earned Miller a three-day suspension and a six month probationary period.
Included in the documents released Tuesday is a letter Miller wrote to his supervisor in which he describes what happened:
Over the lunch hour this past Wednesday, I got on three computers (not belonging to me) in the office. All of them were on and none of them were locked. I accessed my personal website, for political purposes (participated in a poll), and then cleared the cache on each computer. I did the same thing on my computer. Jill asked the office what happened. I lied about accessing all of the computers. I then admitted about accessing the computers, but lied about what I was doing. Finally, I admitted what I did.
"I acknowledge that my access to others' computers was wrong, participating in the poll was wrong, lying was wrong, and there is absolutely no excuse for any of it," Miller continued.
So now we know that Miller lied. But do Alaskans care? Or, at least, do they care enough swing the race, which currently shows Miller and Murkowski tied, with Democrat Scott McAdams gaining on them? The Alaska Dispatch ponders this question, but the answer is far from clear at this point.