Fight disinformation:
Sign up
for the free
Mother Jones Daily
newsletter and follow the news that matters.
Adam Serwer flags a trend from the latest Gallup poll that should give Democrats pause. While Democrats has retained support from blacks, support among Latinos has collapsed: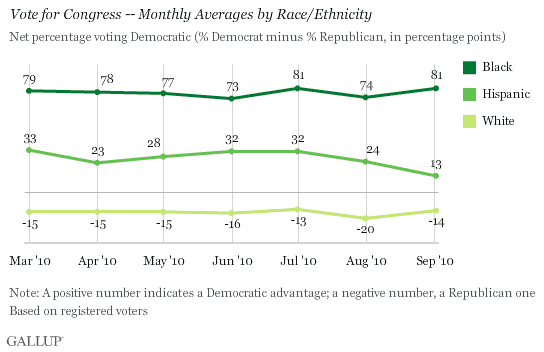 Serwer rightly flags the declining support as a sign that Republicans managed to win the immigration debate: they've criticized and obstructed Democratic attempts to pass an immigration overhaul, then turned around to blame Obama for failing to take action. Conservatives also have used Arizona's immigration law as a sign that Republicans are willing to take action. According to the Immigration Reform Law Institute, an anti-immigration group, political candidates in at least 12 states have promised to introduce state laws similar to Arizona's. Even if Latino voters don't approve of such measures, the GOP efforts also have succeeded in highlighting the Democrats' seeming inaction on the issue.
This trend isn't likely to send Latinos into the arms of the GOP in this year's elections, but it could convince them to stay at home instead of voting for Democrats. It also raises the question as to whether the GOP could end up winning back at least some Latinos in 2012 if Obama fails to pass a comprehensive overhaul during the next Congress.
It would have to be a significantly different faction of the Republican Party, of course—a Chris Christie or Mike Bloomberg type of alternative, rather than someone from the anti-amnesty camp. Yes, it will be difficult for any Republican to distance him or herself from the nativism that has flourished once again on the right. But given the number of times that the Democrats failed to deliver on their promises for immigration reform, disillusionment also runs deep. The Democrats will have an even tougher time passing significant immigration measures after the midterms, given the flood of GOPers expected to take office. As a result, there could be more room for Republicans who can break from both the GOP's right flank and the Democrats on the issue.
After all, George W. Bush managed to do as much, using his moderate stance on immigration—including a path to citizenship for illegal immigrants—to win over Latino voters. After his overhaul failed to pass Congress, Latinos ended up fleeing back to Democrats. But Democrats shouldn't take it for granted that they'll stay loyal to the party, if they, too, fail to pass meaningful immigration reform by 2012.