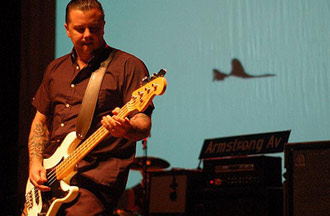 Fight disinformation:
Sign up
for the free
Mother Jones Daily
newsletter and follow the news that matters.
Matt Freeman has played bass in some ridiculous number of rock 'n' roll outfits over the years. One of my old bandmates introduced me to him way back when outside Berkeley's famed punk clubhouse 924 Gilman Street. That was in the pre-Rancid days, and I'd recently scored a fun little 7-inch vinyl record of Freeman playing bass with Kamala and the Karnivores. (I still have it somewhere.) He'd also played in the Dance Hall Crashers, Downfall, and various other acts he helped put together. But his real street cred came with his "former" status in Operation Ivy, a band on the Gilman scene that was the first to combine ska and punk rock into a high-intensity sound that spawned thousands of imitators. Even after the band split up, the now-defunct Lookout Records sold enough copies of Energy, Op Ivy's one and only full-length, that its members were able to quit their day jobs.
Rancid—formed a few years later by Freeman and Op Ivy guitarist Tim "Lint" Armstrong, and joined by guitarist Lars Fredericksen and lefty drummer Brett Reed—picked up where Op Ivy had left off. They recorded a series of successful albums on Epitaph records and toured relentlessly, indulging in various side projects when they grew restless. During a Rancid hiatus in 2004, Freeman also did a temporary stint with the seminal Southern California punk band Social Distortion. The boys have since grown into middle-aged men, but Rancid plays on, and Freeman has a new album out with Devil's Brigade, his psychobilly side project with Armstrong and drummer DJ Bonebrake from X—one of my favorite bands of all time. Last month, just prior to the CD's release on Epitaph, Freeman was kind enough to reply to a few questions about his own listening preferences, aging gracefully, and the TV series Breaking Bad.
Mother Jones: What's your favorite new punk rock release this year and why?
Matt Freeman: Social Distortion (self-titled), because it's Social Distortion.
MJ: What about something completely outside of your genre?
MF: I like the new Peter Case record, Wig.
MJ: What's the latest song, good or bad, that super-glued itself in your brain?
MF: The Ramones, "Rock and Roll Radio"
MJ: Shuffle your iPod for me and name the first five songs that pop up. (The truth, now!)
MF: 1. Merle Haggard, "If You Got Time (To Say Goodbye)"
2. X, "White Girl"
3. The Who (Live at Woodstock), "See Me, Feel Me"
4. Johnny Cash, "The Greatest Cowboy of All"
5. The Stanley Brothers, "Loving You Too Well"
MJ: Three records you never get sick of listening to?
MF: X — Under The Big Black Sun
The Who — Live At Leeds
The Clash — London Calling
MJ: Any guilty pleasures?
MF: Crosby, Stills & Nash (self-titled)
MJ: Favorite politically themed song or album?
MF: Creedence Clearwater Revival — "Fortunate Son"
MJ: Did you name Devil's Brigade after the World War II commando unit?
MF: The movie with William Holden.
MJ: So basically you and Tim Armstrong got the itch to play some psychobilly?
MF: It's all punk rock to us.
MJ: And you're playing stand-up bass?
MF: Yes.
MJ: You've been in a ton of bands over the years. You even played a stint with Social Distortion. What was that like?
MF: I loved playing in that band. It was a great time. It made me a better player. I learned a lot.
MJ: I've played with my own groups in the past on bills with bands like DOA, where an aging bandleader is still singing songs he wrote at age 17—accompanied by a few young guns. That would drive me crazy. Do you think guys like DOA's Joey Shithead and Social Distortion's Mike Ness are still feeling the music? I mean, how many times can a guy sing "Mommy's Little Monster"?
MF: Those guys are more relevant now than they ever have been. And knowing them personally, as I do, I think they are the type of people that if they weren't feeling it they would not be doing it.
MJ: What are a few punk rockers you think have aged gracefully and stuck with their principles?
MF: Mike Ness, Joey Shithead
MJ: You're 44 yourself, so it might be hard to pull off something like Op Ivy's "Gonna Find You" with a straight face. How have your own tastes in music changed with age?
MF: I take time to listen more closely than I did when I was younger.
MJ: I hear you taught yourself mandolin. Ever see yourself moving away from hard and fast rock 'n' roll—or maybe doing something like Green Day did with the American Idiot musical?
MF: I never say never. That's why I've been playing punk rock all these years.
MJ: You had a lung cancer scare five years ago after decades of smoking, right? Are you all out of the woods on that?
MF: Yes, thanks for asking.
MJ: In any case, I'll wager you're a fan of Breaking Bad?
MF: Yes, I love that show.
Click here for more Music Monday features from Mother Jones.