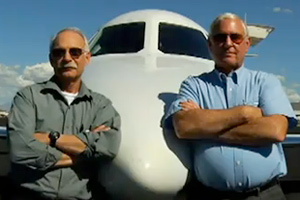 Fight disinformation:
Sign up
for the free
Mother Jones Daily
newsletter and follow the news that matters.
If tea party leaders jet around the country in a plane donated by a big GOP contributor, are they still "grassroots" activists? It's a question some local tea partiers would like to put to the leaders of the Tea Party Patriots, one of the nation's largest tea party umbrella groups, which claims to represent 15 million people. Over the past week, national coordinators Mark Meckler and Jenny Beth Martin have been "flying for freedom" and "landing for liberty" across the country in a private jet they've dubbed "Patriot One" to help rally the tea party troops before the election. Along for the ride is an Atlanta filmmaker who's documenting the trip in videos posted on the group's national website. Like this one:
The videos, which show the tea party leaders traveling in the style of Wall Street investment bankers, are hardly a humble display of the usual tea party thrifty pluck. Instead, they show Martin and Meckler (wearing an oversized cowboy hat) getting on and off the jet, taking off in the jet, landing in the jet, even providing narration from inside the cockpit. "Patriot One: The Movie" has angered some tea party activists, especially because Meckler and Martin have not told their members who donated the sleek plane.
On Tuesday, William Temple, a Georgia minister and Revolutionary War re-enactor who is a regular at tea party events, took to the Daily Caller to compare the jet-set Tea Party Patriots leadership to Nancy Pelosi and her alleged misuse of US Air Force resources. He writes:
So what is with Tea Party Patriot's junket 'round the nation? Have Tea Party contributions been so forthcoming that they are financing this massive airlift campaign in the skies from sea to shinning sea, culminating on the west lawn of the nation's Capitol on November 2? And it is a massive airlift of Pelosi proportions! More than 30 flights: starting in Green Bay, Wisconsin, on October 21, with two to four flights daily, while accompanied by a "gotcha" film crew to document Jenny Beth and Mark Meckler's every arrival and departure with on-the-spot interviews as they hob nob with Tea Party Patriot local organizers. (Haven't seen Mark in the videos yet?) The films are then shamelessly posted on the Tea Party Patriots website, and emailed nationally (using their national bank of emails), always with the proverbial admonition reminding the brain-dead that the Tea Parties are for "fiscal responsibility, constitutionally-limited government, and free markets." (Huzzah for fiscal responsibility!) …
Temple posed a simple question: Who's paying for the plane? We at Mother Jones thought he deserved an answer. Using publicly available flight-tracking information on the Internet and the schedule posted on the Tea Party Patriots website, we were able to determine the owner of "Patriot One." As Temple suggested, he is not exactly what you'd call a "grassroots" donor. His name is Raymon F. Thompson, and he's the founder and former CEO of Semitool, a semiconductor company he recently sold for $364 million.
On Wednesday, the tea party tour went from Flagstaff, Arizona, to Mesquite, Nevada, and then to Harrison, Arkansas. There's only one private jet that's followed that unique itinerary. It's a 1982 Dassault Falcon 10, a French-made plane that seats four or eight people and looks just like the one featured in the videos on TPP's website. Not only that, it just happens to match the tail number of the plane Meckler and Martin have featured in some of their video. According to the Federal Aviation Administration, that jet is registered to Eagle III, a private company in Kalispell, Montana, a hotbed of tea party and other right-wing activity, including, in the past, armed militia groups. According to Montana corporation records, Eagle III belongs to Thompson.
The jet has an interesting history. Before Thompson sold it, his firm Semitool was paying several million dollars a year to Eagle III and other aircraft companies Thompson controlled to lease the jet and a hanger. Essentially Semitool was paying Thompson millions to provide him with the already deluxe perk of having a private jet. Some commentators found the deal a little egregious—the kind of corporate shenanigans you'd think tea partiers might frown upon. Thompson had to give up the leases before the sale of his company went through. (The details were provided in Securities and Exchange Commission filings.) Thompson has since retired and bought a diner in Kalispell, where he declined Wednesday to take my call.
He hasn't retired from politics, though. Thompson and his wife have been major donors to the Republican Party for more than 15 years. Together, according to data from the Center for Responsive Politics, they have given more than $130,000 to federal Republican committees and candidates, including $4,800 this year to tea party favorite Rep. Michele Bachmann (R-Minn.). Thompson is also active in Montana politics, where he has supported one of the tea party's most radical candidates, Derek Skees, who's running for a seat in the Montana house. Skees, who showed up at a Memorial Day parade this summer wearing a jacket emblazoned with a Confederate flag, and has been connected to anti-Semitic and militia activity, is a tea party purist. He has advocated nullifying federal health care laws, refusing federal stimulus money, and shutting down many of the state's school districts and giving kids vouchers to help cut the budget by letting the private sector fill the gap.
Thompson is also a contributor to the Heritage Foundation, the conservative think tank where Tea Party Patriots board member and former congressman Ernest Istook is a "distinguished fellow." Last week, in conjunction with Heritage, Thompson and his wife hosted a big GOP confab for Sen. John Thune (R-SD) whom they've supported for years. (Thune is exploring a presidential run.)
Donating a jet to the Tea Party Patriots seems in keeping with Thompson's politics. It's also very generous. According to an online air chartering website, hiring a jet just to fly from Mesquite to Boone County, Arkansas, as member of the Tea Party Patriots did on Wednesday, can cost anywhere from $17,638 to more than $30,000 for a flight lasting less than three hours. If they'd had to pay for the charter, just for the nine flights in three days we tracked, the bill could have easily topped $150,000—twice that for the entire 30-city tour which culminates on Election Day.
That's quite a tab for a grassroots organization, especially one co-led by a man who recently complained that another tea party operation, Tea Party Express, is not grassroots enough because it's run by a GOP consulting firm. "They try to portray themselves as some sort of grass-roots movement, but they are a classic example of what those on the left would call Astroturf," Meckler said of the Tea Party Express in an AP story last month. "They are fake, they're not from the grassroots. These are longtime Republican political activists with their own agenda."
Thompson, of course, probably also has his own agenda in lending his jet to Tea Party Patriots. And his connection to the jet might also be a clue to the source of a recent windfall the group, which it has used to fund its local get-out-the-vote efforts. Last month, TPP held a press conference to announce it had received a $1 million donation, but then refused to identify the donor. Given Thompson's generosity with his private jet, tea party activists could be forgiven for wondering if he's also the secret million-dollar man.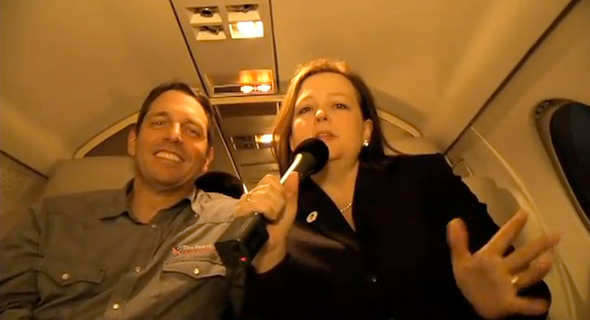 Photos from the Tea Party Patriots' National Tour Youtube page.