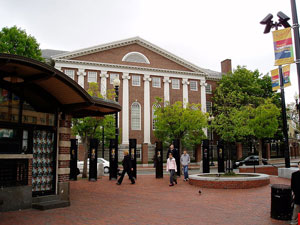 Fight disinformation:
Sign up
for the free
Mother Jones Daily
newsletter and follow the news that matters.
Racial profiling has hit the Ivy League. Again. A party for black Harvard and Yale alums at a Boston club was shut down last weekend because the club owner was afraid that a long line of black people outside could "attract the attention of local gangbangers."
It all started when a group of recent graduates sold advance tickets for a party at a new Boston club, Cure Lounge. When the night of the party came, club management claimed some of the folks waiting in line were "local gang bangers," despite the organizers' strict guest list. Management then demanded that every guest show student ID, which the organizers argued was impossible since alums usually don't carry their old student IDs around. Eventually, on the basis that a line of black people would attract the "wrong crowd" (no joke), the owners shut the entire club down. Michael Beal, one of the organizers of the party, wrote in an email apology to the guests that "regardless of our crowd representing the pinnacle of academic achievement as Harvard and Yale College alumni, Law, Medical, Business and PhD students, we were perceived as a threat because of our skin color." Sounds right on. (You can read Beal's email in its entirety here.)
Writing about all this over at the Grio, blogger Lori Adelman makes a great point:
This incident is more than about entrance to a party, or how infuriating it is for black ivy league alumni to be perceived as a "local gang-banger," or discriminated against by way of "visual affiliation" (see: skin color). In fact, it should serve as an opportunity for us to examine the ways in which we as a black community can and must view our struggles as more connected across lines of class and education, now more than ever before.
Agreed. Obviously racism is class- and education-blind, as last year's arrest of Harvard professor Henry Louis Gates Jr., who was just trying to get into his own house, confirmed. It's not just Gates: Ex-Harvard (and current Princeton) Prof. Cornel West has spoken to Tavis Smiley about being stopped and questioned by Harvard police while on his way to lectures, and black Harvard student groups picnicking on campus were recently questioned by campus police about their presence at the college. But as the Grio's Adelman points out:
Perhaps we might focus less on the offenders' inability to distinguish who deserves to be treated with dignity and fairness, and more on why there are criteria for such treatment in the first place.
Based on Cure Lounge's depreciating Yelp score and the calls from the blogosphere to boycott the place, it won't get away from the scandal unscathed. Too bad the same can't be said for racist institutions that target black folks who don't have degrees or money.
(h/t: Jezebel)