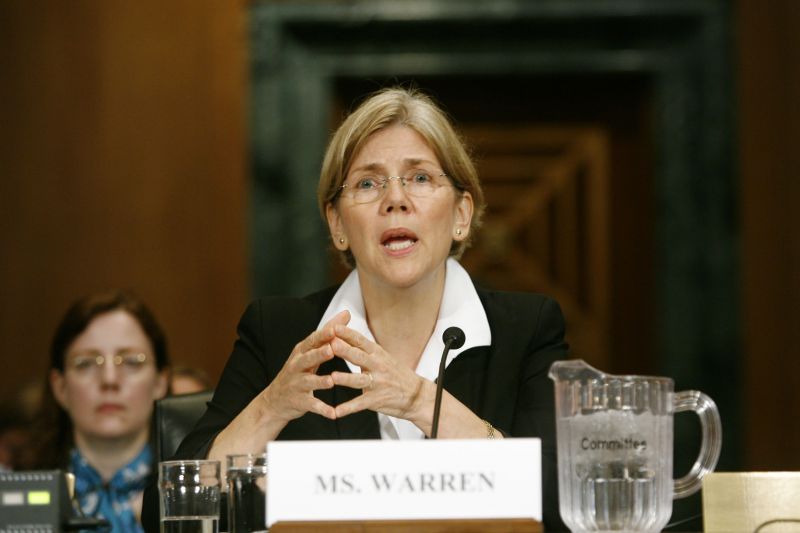 Facts matter:
Sign up
for the free
Mother Jones Daily
newsletter.
Support
our nonprofit reporting.
Subscribe
to our print magazine.
First it was Republicans like Rep. Spencer Bachus (R-Ala.), the likely chair of the House financial services committee in the 112th Congress, who took aim at the new Consumer Financial Protection Bureau. Now, a high-ranking member of the Federal Reserve system, the agency that will eventually house the CFPB, is taking a cue from the US Chamber of Commerce's playbook and trying to chip away at the bureau's funding and clout.
On Monday, James Bullard, the president of the Fed's St. Louis branch, questioned the amount of money coming out of the Fed's budget to fund the new consumer bureau. Although housed within and funded by the Fed, the bureau, which is being launched by Harvard law professor and former bailout watchdog Elizabeth Warren, is an independent organization. It takes orders from no one but its presidentially-appointed chief. But the Fed's Bullard said the bureau's funding—about 10 percent of the Federal Reserve System's spending in 2011, 11 percent the year after, and 12 percent in 2013—"is not based on any careful assessment of what the needs of the bureau will be as it attempts to fulfill the mandate of the Congress with regard to consumer protection." He added, "I am concerned about this method of funding for the bureau."
Here's what the math looks like: The Fed system budgeted for $4.4 billion in spending in 2010, which means the CFPB could have its disposal about $440 million in its first year (though that's unlikely as the bureau is still staffing up and not yet at full capacity). But figure the bureau's budget will fall in the $400 to $500 million range with a staff that could reach around 2,200, as experts like Tim Duncan, chairman of American Business Leaders for Financial Reform, have suggested.
Now, let's put that number into some context. By comparison, in 2009, the Securities and Exchange Commission, the nation's top financial regulator, had just over 4,000 employees and a budget of $913 million. The Commodity Futures Trading Commission, which regulates the derivatives markets, clocks in at around 580 staffers on a $216 million budget, according to its most recent appropriations request. Then there's the Fed system itself, which has 20,000 employees and $4.4 billion in expenses.
When you compare the CFPB to other regulators, you'll see that its funding isn't at all out of whack or arbitrary. Indeed, the CFPB is on par with every other major financial regulator in the US.
A few more important points from Georgetown University law professor and financial expert Adam Levitin:
1. CFPB is not mandated to spend all that money. If CFPB doesn't spend its entire budget, that money goes back to Treasury. Therefore, it's really not a big deal if CFPB is overbudgeted.

2. Recall that a major reason we needed a CFPB was that consumer financial protection was severely compromised by housing it in bank regulators who got their funding from banks, not through the appropriations process.
So it's hard to see where Bullard is coming from here. Maybe he's just pissed that the CFPB is peeling off some of the Fed's money. Then again, given the Fed system's utter failure to protect consumers, choosing to sit on its hands for years in the face of mounting evidence of subprime mortgage abuses and rampant fraud, perhaps Bullard is lucky Congress didn't divert more of the Fed's cash to CFPB.