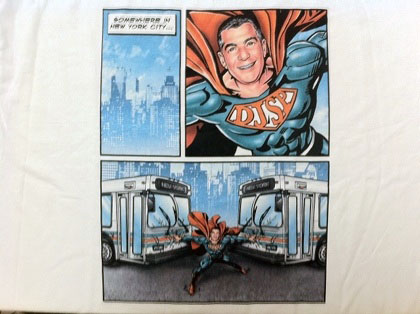 Fight disinformation:
Sign up
for the free
Mother Jones Daily
newsletter and follow the news that matters.
For people pushed out of their own homes by the law firm of foreclosure king David J. Stern, consider Monday's news a piece of sweet irony. Stern, the South Florida lawyer who built a business empire in the foreclosure industry, has come full circle: In a regulatory filing published today, Stern's publicly traded company revealed that one of its subsidiaries failed to pay rent in November on its towering office building in Plantation, Florida, and had received a notice of default. Mother Jones readers likely first heard of Stern through our eight-month investigation into his global foreclosure operation and the larger world of foreclosure mills, the assembly line-like law firms that cut corners and allegedly commit fraud in their quest to snatch borrowers' homes as fast as possible.
Stern's financial troubles stem from the implosion of his foreclosure empire. In the months after Mother Jones published its investigation, he's lost clients such as Citigroup, GMAC, Wells Fargo, Fannie Mae, and Freddie Mac, and laid off nearly 450 employees. New business to his companies, he wrote in a recent letter, has declined by a staggering 90 percent in the past six months.
And it gets worse for Stern and his foreclosure operation. The same regulatory filing shows that another Stern subsidiary recently defaulted on a $15 million line of credit from Bank of America, on which the company still owes $12 million in principal. The loan was issued in March to a subsidiary of DJSP Enterprises, which handles all of the non-legal, paper pushing work in Stern's operation—anything for which you don't need a bar license. On November 5, the filing shows, the company received a letter from BofA saying it was in default and that the bank demanded full repayment immediately—money that Stern's operation apparently doesn't have.
But there's a rub. Unlike millions of homeowners, who when faced with default couldn't catch a break with unscrupulous foreclosure attorneys or unsympathetic mortgage servicers or dismissive judges, Stern cut a deal with Bank of America. On November 12, the regulatory filing says, Bank of America and the Stern subsidiary entered into a forbearance agreement, giving Stern until the end of the month to develop a new business plan and prove to BofA how his operation will somehow pay off the loan. However, the regulatory filing strikes an ominous for the future of Stern's empire, given the perilous state of his businesses, the debts owed, the ongoing Florida attorney general's investigation, and more:
There can be no assurance that [Stern subsidiary] DAL will be able to obtain forbearance agreements with the Bank or its other creditors, develop ongoing operating plans that will be acceptable to its creditors or successfully develop and implement those plans in a timely manner. If it is unable to accomplish any of the foregoing, it will not be able to continue its business operations.