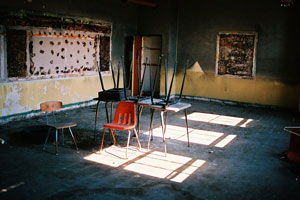 Fight disinformation:
Sign up
for the free
Mother Jones Daily
newsletter and follow the news that matters.
The National Education Association, the largest teachers' union (actually, the largest union, period) in America, has long been closely tied to the Democratic Party. This election year is no different: this cycle, the union has spent some $40 million to elect (mostly) Dems around the country. (That's up from 2006, but down from 2008, a presidential election year.)
About a third of that money—$17 million—was funneled toward independent expenditures to support three incumbent senators: Harry Reid (D-Nev.), Michael Bennet (D-Colo), and Patty Murray (D-Wash.), as well as Joe Sestak, the Dem candidate for Senate in Pennsylvania. The NEA is also targeting a number of House districts the Dems stand a very good chance of losing: AZ-05 (Harry Mitchell), CO-03 (John Salazar), FL-22 (Ron Klein), IL-17 (Phil Hare), NY-01 (Tim Bishop), NC-08 (Larry Kissell), OH-13 (Betty Sutton), PA-08 (Patrick Murray), VA-05 (Tom Perriello), and TX-23 (Ciro Rodriguez). In a real GOP wave, all of those targeted candidates could lose. But the union thinks it made its targeting choices wisely: "We've been very strategic about how we spend our resources," Karen White, the NEA's director of campaigns and elections, told me last week. "We targeted [these candidates] because they need a lot of help and they're in marginal races. That's where we have the greatest ability to make an impact."
So what's happened to the rest of the NEA's investment? About a third of it was spent on ballot measure campaigns in Massachusetts and Washington, and another third went to member-to-member outreach and get-out-the-vote efforts. That last bit is what will really have an effect today.