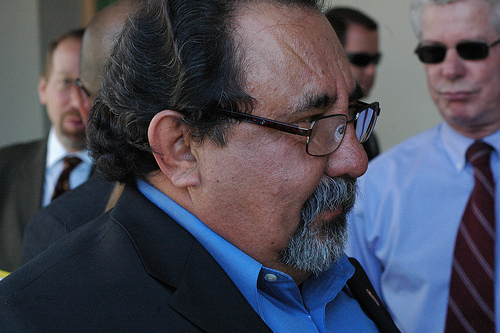 Fight disinformation:
Sign up
for the free
Mother Jones Daily
newsletter and follow the news that matters.
On Thursday, congressional Democrats took a big step toward resolving the fiercest battle of this lame-duck session: deciding the fate of the 2001 and 2003 Bush tax cuts. By a vote of 234 to 188, Democrats passed a bill that will permanently extend the tax cuts for couples earning less than $250,000 and single earners making less than $200,000. The bill also slashes the capital gains and dividend taxes for the middle and working classes.
House Republicans vehemently opposed the measure, with House Minority Leader John Boehner calling it "chicken crap." GOPers say the Bush tax cuts should be extended for all earners, while Democrats claimed the GOP was unfairly binding cuts for the middle class to those for the wealthy. As Rep. Sander Levin (D-Mich.) put it on Thursday, "We must not let middle-income taxpayers remain hostage to a partisan agenda."
It was progressive Democrats who took to the House floor on Thursday to rally behind relief for the middle class. Indeed, the fate of the Bush tax cuts represents progressives' last major legislative effort before their power is curtailed, when the GOP takes control of the House and claims six more Senate seats. And, for the time being, they managed overcome Republican opposition, as well as detractors in their own party, to help the middle class.
On Thursday, progressive Democrats took to the House floor, one after another, arguing that middle-class tax cuts should not be inextricably linked to cuts for the richest Americans. Levin challenged House Republicans, saying, "You have a chance to stand up or back down on tax cuts for the middle income families of this country."
Rep. Barney Frank (D-Mass.), chair of the powerful House financial services committee, said he opposed a bill extending the cuts for the wealthy, and was confident his progressive colleagues would join him. "If they were to [extend cuts for the wealthy], there'd be a lot of us voting against it," Frank told Mother Jones.
Thursday's successful vote comes after months of pressure from the left. The Congressional Progressive Caucus, for instance, has demanded that House Speaker Nancy Pelosi (D-Calif.) extend the cuts for middle class families but to allow them to expire for single taxpayers making more than $200,000 and couples making more than $250,000. In a September letter to Pelosi, 32 House progressives wrote that "it is critical that we pass the Obama middle-class tax cuts—not providing an even greater lift for the wealthiest Americans who don't need it." And in a November 12th letter, the co-chairs of the Progressive Caucus, Reps. Raul Grijalva of Arizona and Lynn Woolsey of California, said extending the tax cuts for the wealthy "would be a giveaway to the nation's wealthiest people and would significantly increase government debt."
The House's tax cut bill now heads to the Senate, where its future is uncertain. Senate Republicans have said they won't vote on a single piece of legislation until the tax cuts are extended for all earners, not just the middle class. One potential compromise comes from Sen. Charles Schumer (D-NY), who wants to prolong the cuts for everyone but Americans earning more than $1 million. But that proposal is unlikely to gain much traction, with Republicans refusing to consider any compromise. Rep. Dave Camp (R-Mich.), the ranking member on the House ways and means committee, summed up his party's sentiments well: compromise is "a terrible idea and a total non-starter."
Rep. Michael Capuano (D-Mass.), a member of Progressive Caucus who helped pass Thursday tax cut bill, was pessimistic about the bill's chances in the Senate. "It's almost impossible to move this in the Senate," he told Mother Jones. Capuano knows how futile negotiations on tax cuts are with the GOP: earlier this fall, he offered to raise income threshold to $500,000, but that was soundly rejected. "I don't have any hope at all that the Republican senators will compromise on this," he went on. "All I can do is really build pressure from the outside."