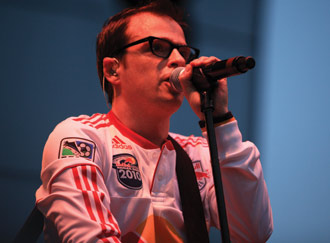 Fight disinformation:
Sign up
for the free
Mother Jones Daily
newsletter and follow the news that matters.
Hurley, the latest release from irreverent alt-rock foursome Weezer—and the band's first on indie label Epitaph—debuted at No. 6 on Billboard's chart of the Top 200 albums—not bad for a band whose loyal old fans had been griping that something (presumably something dark and evil) had become of the band they grew up on. The album marks a reversion to Weezer's earlier self, and not just stylistically; most of the lyrics evoke a state of perpetual adolescence. In "Memories," front man Rivers Cuomo recalls pissing in plastic cups before we went on stage / playing hacky sack back before Audioslave was in rage. And, in "Trainwrecks," We think it's uncool to be on time / Mooching off our friends is not a federal crime. The album is simple and nostalgic, with plenty of raw guitar hooks.
Hurley also addresses the band's present: In "Time Flies," Cuomo croons: Look into the mirror, there were lines around my eyes. And: I'm still in the race, and I'm barely keeping pace, but it's worth the ride. Which all might look kind of depressing on paper, but Cuomo still delivers his lines with the characteristic flippancy his fans so love: Even when I'm gone this stupid damn song will be in your head / I'll be looking down with a twinkle in my eyes. There's no forgetting that Weezer's still just a bunch of overgrown kids proud to put their nerdiness on display. We caught up with Cuomo recently to ask about his favorite music, aging rock stars, and what's on his iPod.
Mother Jones: What's your favorite new or upcoming release this year by a rock 'n' roll artist?
Rivers Cuomo: I guess by far I'd say Weezer, Hurley, 'cuz it has great melodies, cool lyrics, crunchy guitars, high energy, raw emotion. That's my favorite kind of record.
MJ: How about a release completely outside your genre?
RC: I don't really listen to records anymore
MJ: Shuffle your iPod and name the first five songs that pop up.
RC: 1.?? — ???? [Sentence pattern—Lesson 30 (Japanese)]??
2. Sebadoh, "Decide"
3. Reverend Moses Mason, "John the Baptist"
4. Weezer, "The Dawn" (Live in Seattle, 2001-11-14)
5. Rush, "A Passage to Bangkok"
MJ: What's the latest song, good or bad, that super-glued itself in your brain?
RC: Wheatus, "Teenage Dirtbag"
MJ: Three records you never get sick of listening to?
RC: The Beach Boys, Pet Sounds
Andras Schiff, Well-Tempered Clavier (by Bach)
Glenn Gould, Goldberg Variations (by Bach)
MJ: Any guilty pleasures?
RC: I never feel guilty about liking music.
MJ: Favorite holiday-related song or album?
RC: Weezer, "Holiday"
MJ: Favorite politically themed song or album?
RC: Public Enemy, It Takes a Nation of Millions to Hold Us Back
MJ: In 2006, you told the Harvard Crimson that your fan base was young kids, not college students, as per the Weezer stereotype. Is that still true?
RC: No, I don't think that's true anymore.
MC: There's been some online lamenting from early fans of Pinkerton and The Blue Album saying, "What's happened to Weezer?" What do you make of this nostalgia?
RC: I think those people will be very pleased with Hurley. Also, our "Memories" tour features songs from those albums.
MJ: Any bands you personally feel like you've outgrown as a listener?
RC: No, I enjoy listening to the albums of my youth as much as ever.
MJ: Name a few bands you think have aged really well, growing up alongside their fans and keeping them interested?
RC: Radiohead, U2
MJ: Your new album cover features Hurley, the character from Lost. Why Hurley? What do you think he represents?
RC: He's just a warm, open, and loveable guy—with a lack of pretense. Especially in that particular photo. And we thought that image would be surprising on the cover of an alternative rock record.