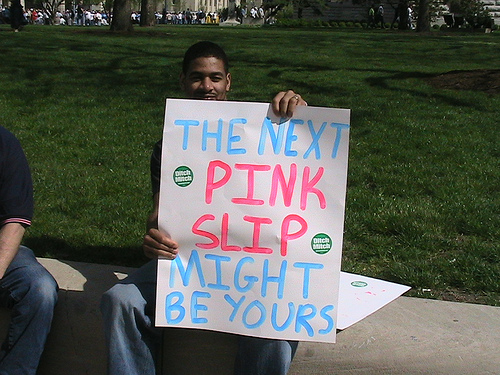 Fight disinformation:
Sign up
for the free
Mother Jones Daily
newsletter and follow the news that matters.
Here's some holiday gloom for you: Two million out-of-work Americans will lose their safety net this month if Congress fails to extend temporary unemployment insurance. Another seven million will lose their benefits within the year. And the economy could shed 0.6 percentage points in gross domestic product if jobless benefits aren't extended. Those are the grim highlights of a new report (PDF) by the White House's Council of Economic Advisers.
The White House's latest report gives supporters of extending jobless benefits, mostly Democrats, more ammunition. For instance, the report found that 14 million jobless Americans received financial support as of October. For some families, these benefits are crucial to staying afloat: In 42 percent of households where there's one earner and that person collects unemployment insurance, the elimination of these benefits would wipe out 90 percent of their income.
By not acting sooner, Congress has already allowed two emergency forms of unemployment insurance to begin to expire on Wednesday. The benefits were originally created in 2008, as the economy collapsed and unemployment soared. Now, however, lawmakers can't reach a compromise on whether to continue them. Republicans refuse to support the benefits because they'd add to the deficit, even though members of both parties have traditionally approved unemployment benefits because they're an "emergency" measure.
When asked on Thursday about Republican intransigence, Austan Goolsbee, chairman of the Council of Economic Advisers, pointed out the GOP was denouncing the extention of jobless benefits while simultaneously demanding tax cuts for the rich—which would also add to the deficit. "The Republicans arguing that we should pay for emergency unemployment insurance but not pay for high-income tax extensions does not make any sense," he told reporters.
Unlike the tax cuts, Goolsbee said, failing to extend unemployment insurance threatens to derail the economy's tepid recovery. "Letting millions more Americans fall into hardship will hurt our economy at this critical point in our recovery and immediately undermine consumer spending," he said.