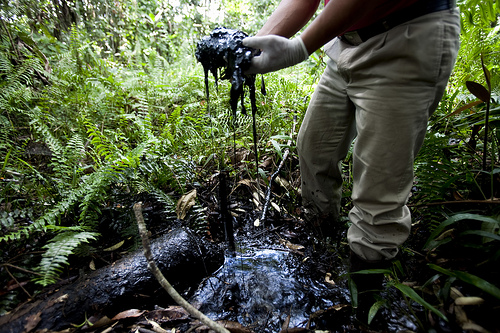 Fight disinformation:
Sign up
for the free
Mother Jones Daily
newsletter and follow the news that matters.
The attorneys representing Amazonian communities in a lawsuit against Chevron have submitted their final argument to a judge in Ecuador, the latest development in a legal saga involving the oil giant that that began nearly two decades ago. The plaintiffs are seeking up to $113 billion in compensation for environmental damages in the Amazon.
This particular case started in 2003, though the legal challenges stretch back to 1992. The plaintiffs argue that Texaco dumped 16 billion gallons of heavily polluted waste water from their oil production operations into waterways in the Amazon between 1964 and 1990. Chevron acquired Texaco in 2001, and claims that its subsidiary "fully remediated its share of environmental impacts" before 1992.
But the Amazonian communities represented in the case say otherwise. The oil company, their lawyers state in the final argument obtained by Mother Jones, knowingly dumped millions of gallons of the toxic waste into the rainforest, taking no action to minimize the risks it posed to communities in the region. The company also dug 900 open, unlined pits for dumping "drilling muds," which the plaintiffs describe in their filing as "a toxic soup of oil drilling byproducts that includes barium, heavy metals (e.g., chromium, lead, and zinc), chloride, petroleum compounds, and acid." Thousands of gallons of oil also leaked from the pipeline running through the region, which the company repeatedly failed to report or address, they argue.
The plaintiffs report contamination from toxic chemicals at 45 sites they inspected in the area. Further, they point to Chevron's own internal memos obtained in the case as evidence that the company knew about legacy of pollution at the sites. And they say that the remediation work the company took at the sites was a "sham" intended to fend off lawsuits.
The oil company succeeded in getting the case moved to Ecuador, but has since sought to dismiss the case there as well, claiming misconduct on the part of plaintiffs and the judge. Most recently, Chevron also attempted to obtain raw footage from Joe Berlinger, a documentary filmmaker, that they say will reveal inappropriate interactions between the plaintiffs and one of the experts in the case. Earlier this month, a US court ruled that the filmmaker will have to turn over his tapes.
The case has been bogged down in wrangling for months, with the judge in the case changing multiple times amid accusations of misconduct. It's unlikely that a judgment in this case will end the years-long fight. Meanwhile, the issue at the heart of it—whether and how much Chevron should compensate Amazonian indigenous communities for the pollution—still remains unresolved.
"After almost 20 years of Chevron's legal sideshows, delay tactics, false accusations, and intimidation, the time has come for Goliath to face David head-on," they wrote in a summary of the final appeal to the court.