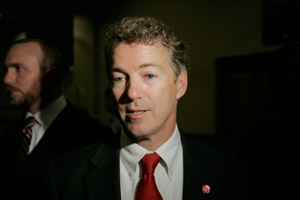 Fight disinformation:
Sign up
for the free
Mother Jones Daily
newsletter and follow the news that matters.
Between the Republicans' pledge to return to Bush-era spending levels, Rep. Paul Ryan's (R-Wisc.) retreat from the party's pledge to slash $100 billion, and the never-ending back and forth over cutting earmark and defense spending, the GOP is having a tough time turning its fiscal fever dreams into reality.
Enter The Paul.
Not to be upstaged by the White House and the President's State of the Union address on Tuesday, freshman Sen. Rand Paul (R-Kent.) introduced a massive spending cut bill that slashes $500 billion from the federal budget in—wait for it—one year, reports Politico. Recently, Republicans pledged to roll spending back to 2008 levels, a commitment Paul supports. He sees his cuts as his own, not-so-little contribution to the spending solution.
Agencies, departments, and programs Paul wants to eliminate include:
• the Department of Housing and Urban Development

• Department of Energy

• Most of the Education Department (with the exception of Pell Grants for low income college students)

• The Consumer Product Safety Commission, Corporation for Public Broadcasting and the national endowments for the humanities and the arts

• All foreign aid
Paul's budget also cuts funding for the federal court system and Agriculture Department by almost a third, while the FDA would suffer a 62% cut. Meanwhile, homeland security spending would be sliced almost in half.
And on defense spending:
Paul's 12-page bill appears to state its defense cuts as a series of 10 percent reductions from President Barack Obama's 2011 budget request—not yet fully enacted. But as described in accompanying material provided by the senator's office, the end result would be about a 2.7 percent cut below 2010 levels—far more severe than anything envisioned by House Republicans. Most controversial could be a proposed $16 billion reduction from the overseas contingency funds provided for the military for the current fiscal year.
Paul's communications director, Moira Bagley, told Politico that the senator is willing to extend his time horizon beyond 2011 in hopes of drumming up more support for his cuts. "He sees this as a way to begin the conversation," she said. Meanwhile, a recent Gallup poll shows that over 60 percent of Americans oppose cuts to Medicare, Social Security and education funding. A majority, though, support spending less on foreign aid.
Paul appears to be entirely earnest about his bill. But it's not clear that a huge package of unrealistic, controversial cuts will help the Republicans seem serious about their spending goals. In other words, if this is the best they can offer, they're in trouble.