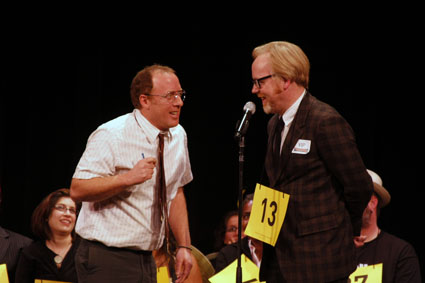 Fight disinformation:
Sign up
for the free
Mother Jones Daily
newsletter and follow the news that matters.
The atmosphere at San Francisco's Herbst Theater on Thursday night felt more like a high school auditorium than its usual elegant performance space. Hundreds had come to observe the Spelling Bee for Cheaters, a fundraiser for literary nonprofit and tutoring center 826 Valencia, and the air bubbled with the sounds of peppy teams cheering on their spellers. A team of librarians near stage right quietly practiced snarky rhyming chants, and teens dressed in bee costumes flitted around the orchestra seats. As the lights dimmed, the "Black Swan" team near the front row turned on their twinkling electric crowns, stood up, and in unison did a ballerina spin in support of their tutu-clad teammate on stage.
As the costumes and spirit suggested, this wasn't going to be a normal spelling bee. Contestants would be allowed to cheat, using tickets like "Try Again," "Free Letter," and "Ask a Teammate" they had purchased as a part of the fundraiser. And rather than rooting for the standard crop of awkward child prodigies, this audience could expect to cheer on the likes of writer Michael Chabon, Lemony Snicket series author Daniel Handler and his artist wife Lisa Brown, Mythbusters co-host Adam Savage, former bank robber and now-author Joe Loya, indie rocker Thao Nguyen, demure folk singer Tracy Chapman, and, the contestant with the most groupies present, beaming high school counselor Ms. Sortino. The trio of judges were improv actors Rebecca Feldman, Liz Feldman, and Jay Reiss, creators of the Tony-winning musical "The 25th Annual Putnam County Spelling Bee."
After the audience recited the Pledge of Allegiance, Jack (short for Gloria Jaqueline) Mejia, the first and possibly the youngest speller at around age 16, approached the mic nervously. Her word: "Strabismus." Definition? A disorder in which the two eyes do not line up in the same direction. With her technique of writing out the letters on her palm and a little help from the judges ("We're going to ask for another spelling…the spelling you'd like it to be"), she aced it and sat back down.
What ensued over the next three hours was a farcical linguistic competition slash comedy show that held the audience in states of belly-clutching laughter. When contestant #4 approached the mic, he was introduced by the judges as "the only seventh grader with a soul patch" (the man was clearly in his 50s). His word? "Cystitis," an inflammation of the bladder. When asked to use the word in a sentence, Judge Reiss replied: "Sally's mother told her it was her cystitis that made her special."
We present a smattering of other words, their definitions, and the wacky sentences presented to contextualize them:
Kumkum: A powder used for a Hindu religious marking between the eyes
"Mary, put down that kumkum, we're Episcopalian."
Chablis: A French white wine made from the Chardonnay grape (word given to 7×7 editor Robin Rinaldi)
"Soft lights…a bottle of Chablis…every time."
Palaestra: An ancient Greek wrestling school
"What happens in the palaestra, stays in the palaestra."
Wanigan: A small lumber shed for keeping supplies (word given to Adam Savage)
"Kenny took refuge in the wanigan when he didn't make friends at lumber camp."
Spaniard: A person from Spain
"Billy giggled when he learned the Spaniards were once a world power."
Kraal: A rural African village (word given to Michael Chabon)
"Oppressive regimes and rampant malaria helped to keep kraal prices low."
Evaginate: To turn inside out (word presented to Thao Nguyen)
"Evaginate.com is not the website you think it is."
With help from their purchased "Cheats," most spellers stayed on until the second round. But as soon as words like "xeropthalmiology" and "gidgee" were introduced into the bee, the stage emptied fast. At around 9:45, two contestants remained: librarian team representative Sunil Patel and high school counselor Ms. Sortino. After Patel stumbled, Ms. Sortino was left facing the daunting "lysergicaciddiethylamide" (commonly known as LSD). Her students from Crystal Springs Upland School, dressed as bees and bee keepers, jumped up and down in their seats. "If you miss this, you'll lose the respect of all your students," joked Judge Reiss. Remarkably, she spelled the word correctly, with arguably no cheating (though her students did mime the letter "y" as she almost stumbled on the second letter).
After the show, clutching an enormous gold trophy and surrounded by gushing high school girls, Sortino was still buzzing: "My goal was to get past the first round. When I ended up in the top three with Savage, I just couldn't believe it." A group of students had recruited her for the event at noon that day because, as one of them explained, "she's a beast in every way."
But the biggest winner was certainly 826 Valencia. At intermission, executive director Leigh Lehman announced that the fundraiser had raised $93,000. "Our goal is $100,000," she urged the audience. "Do you think we can do it?" By the end of the evening, the number had risen to $95,000, and early Friday morning, staff members were at $102,000 and still counting, proving that cheating in a spelling bee can be something to be proud of.