Fight disinformation:
Sign up
for the free
Mother Jones Daily
newsletter and follow the news that matters.
CBS has been (understandably) quiet about the sexual assault reporter Lara Logan sustained while in Tahrir Square. In fact, the network released only one statement noting that Logan had endured "a brutal and sustained sexual assault and beating" before being rescued by women and Egyptian soldiers. Several news outlets ran with the story, quickly throwing up 30-point headlines that Logan had been "raped." Since then, the Wall Street Journal has quoted an anonymous source close to the matter who says Logan's assault was indeed assault, and not rape. In absence of further statements from CBS or Logan herself, there's nothing to make reporters assume the assault was rape rather than sexual assault. Briefly, sexual assault is an umbrella charge that can include rape, but it's not synonymous with rape. Usually, rape implies penetration or intercourse, while sexual assault is a much broader category of crimes including everything from groping to sexual harrassment to verbal attacks.
Most of the press, including major media, were careful to maintain CBS's wording that Logan had been "sexually assaulted" rather than "raped." But the media outlets that did report Logan had been raped did so unevenly and in contradictory terms. At times, the headline of a story would say Logan had been raped, but the actual story reported she'd been assaulted. In other instances, "rape" was only in the URL or Google News headline. In one confusing example, a San Francisco Chronicle blog quotes an unspecified source as saying Logan had been "brutally raped and assaulted." Further examples are below.
The larger implications of this story are the lack of training, awareness, and accountability for the sexual assaults and harassment routinely encountered by female reporters in the field. Mother Jones's fearless human rights reporter, Mac McClelland, has an excellent post on that subject here. For me, it was disappointing to see that even though CBS only released a single, three-paragraph statement, it was still misrepresented by several media outlets.
Melbourne Herald Sun: Logan is listed as raped in story headline, but not in story itself
Radar: Word "rape" is in tags and URL of piece, but not used in story
LA Weekly: Logan reported as "raped repeatedly"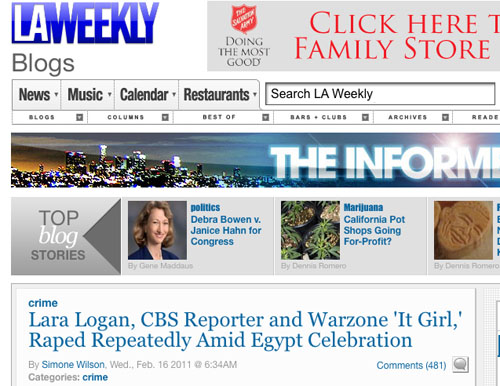 MediaBistro: Rape is in Google News dek, not in story itself
Babble: In one Babble story, Logan is "under attack" in the headline, but "raped" in the story. In the second story, Logan has had an "assault" in the headline, but the story says she was interchangably "assaulted" and "raped".