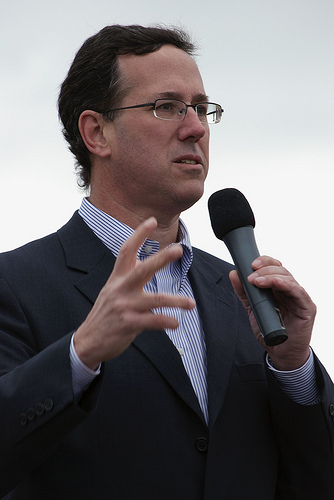 Fight disinformation:
Sign up
for the free
Mother Jones Daily
newsletter and follow the news that matters.
Rick Santorum, the former US Senator from Pennsylvania, is probably best-known for the uproar he caused in 2003 when he likened homosexuality to beastiality. (He famously said the "definition of marriage" did not include "man on child, man on dog, or whatever the case may be.") In his reelection bid three years later, Santorum, who has embraced hard-right positions on social issues like abortion rights, was trounced by Democrat Bob Casey by 18 percentage points, the widest margin of defeat for a sitting senator in 23 years.
Now, Santorum is mulling a presidential bid for the 2012 elections. And he's using his defeat in 2006 as evidence of his conservative credentials, according to the AP:
Santorum said there still could be an opening for someone with his strong social and fiscal conservative views.

"I can look at it and say, 'I was there doing the things everybody says we should be doing, and I was doing them when they weren't necessarily the most popular thing to do,'" he said in an interview with The Associated Press.

Santorum hopes the same conservative streak that helped sink his re-election bid in the swing state of Pennsylvania could prove to be an asset in GOP primaries.

"What you're proposing matters, No. 1, and your authenticity matters," he said.
But first, Santorum will need an image makeover. As Mother Jones' Stephanie Mencimer reported, Santorum has a major online image problem. After Santorum made his inflammatory remarks on homosexuality in 2003, gay columnist Dan Savage held a contest to "memorialize the scandal." The result: SpreadingSantorum.com, a website that defines "Santorum" as "the frothy mixture of lube and fecal matter that is sometimes the byproduct of anal sex." Sickening. And effective. When you search "Rick Santorum" in Google, Savage's site is the third hit. (Number two is the Wikipedia entry "Santorum (sexual neologism).") Ouch.