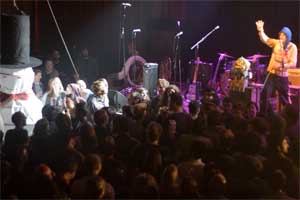 Fight disinformation:
Sign up
for the free
Mother Jones Daily
newsletter and follow the news that matters.
One day a few years back, Julian Koster awoke from a dream on an island in Maine. The whimsical multi-instrumentalist from the Athens, Georgia-based Elephant 6 Recording Company was thinking about an old show he'd played at an abandoned church with artists from the expansive E6 collective. "Somehow I woke up with the conviction that I should call everyone and propose that we do that on tour," he says.
And so he did: "I seriously picked up the phone and got everybody, one after another, and they were all just like, 'Yeah!'" A dozen or so calls later, Koster had commitments from members of E6's indie flagships—Apples in Stereo, The Olivia Tremor Control, the long-disbanded Neutral Milk Hotel of which he'd been a part, and a few other bands.
The resulting Holiday Surprise Tour, named after an OTC song, was a return to form for the collective. Its close-knit members have always collaborated on each other's projects in Athens, a town that "incubates very eccentric souls and takes care of them," according to Koster. The tour followed a period when Koster says he felt "like we all wanted to be hermits or something." But both he and OTC's Will Cullen Hart, an E6 cofounder, insist that it was for their own enjoyment, not an attempt at rebranding. They had enough fun that the group launched a second tour of the same name, and it stopped through San Francisco venue The Independent a couple of Saturdays ago.
The 12 musicians there deviated slightly from a 33-song setlist that lasted three hours and through two intermissions. The megaband prepared upwards of 60 songs for the tour, including classics off OTC's Dusk at Cubist Castle and Elf Power's When the Red King Comes. They practiced them for about six weeks in the kitchen of Hart's Athens apartment. "The roommates would be making dinner and breakfast among us," Koster recalls. "We'd be playing like 3 million decibels and some guy would be over there cooking eggs."
With boyish charm, a stocking-capped Koster led the show, sprinkling corny jokes and far-fetched tales of a Romanian circus band between songs. He brought props from his current Music Tapes project, including his singing saw and the Mechanized Organ-Playing Tower. After the first set break, he introduced a 12-foot-tall inflatable snowman standing in the crowd, and challenged a fan to throw a ball through a paper "moon" that blocked an imaginary sun. The fan hit the target on his first try. With that, the snowman began to deflate. Koster cheered, "No wonder you won the fucking World Series!"
The fired-up collective aims to maintain the new momentum. Hart has been recording a fresh CD with The Olivia Tremor Control and the band plans to be at a key UK festival hosted by reclusive Neutral Milk Hotel frontman Jeff Mangum (who didn't attend the San Francisco show). The Music Tapes also have a new album coming soon. As for a reconvening of NMH, "I don't tend to expect things," Koster says. "I mean, I would be surprised if that never came around, but maybe it isn't supposed to."
Koster says his group hasn't been getting much sleep on the tour. "An added element of our show is, like, delusional sleep-deprivation," he says. Hart, who has multiple sclerosis and says he's "dragged down" and "really tired a lot," still found the energy to dance excitedly on stage through the perfomance. "I don't really get out a lot," he says. "This is great for me." Koster, ever the dreamer, sums up the tour as "like an adventure story or something, like where there's monsters and the ship is sinking and everybody's on the deck and you're struggling, and then somehow you come through."
Click here for more Music Monday features from Mother Jones.