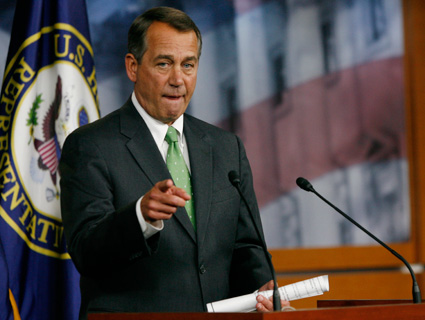 Fight disinformation:
Sign up
for the free
Mother Jones Daily
newsletter and follow the news that matters.
With the hours dwindling before a potential government shutdown, Republicans have pulled out all the stops to pin the blame on Democrats—even accusing them of placing politics over the welfare of the troops and their families.
Faulting Democrats for pushing the country toward a shutdown, Rep. C.W. Bill Young (R-Fla.) noted that soldiers won't get paid unless there's a budget agreement. "You've got kids in the military serving in Afghanistan and Iraq whose wives are going to be wondering, 'Why didn't we get paid this month?'" Young said. "If they want that on their conscience, we're covered."
At issue is a temporary, one-week budget extension that House Republicans introduced this week, supposedly to forestall a shutdown—which will happen on Friday at midnight unless a deal is reached on the 2011 budget. But though on Thursday the House passed the one-week extension, 247-181, it seemed like a deliberate political ploy. On top of funding for government activities—including military spending—House Republicans tacked on policy "riders" that they knew would be completely unacceptable to Democrats.
The bill would strip all funding from Planned Parenthood and family planning clinics, prohibit the District of Columbia from using even non-federal funds for abortions, and prevent the Environmental Protection Agency from regulating greenhouse gas emissions or climate pollution. Taken together, these provisions ensured the bill stood zero chance of passing the Democrat-controlled Senate.
Describing the one-week extension as a "distraction," President Obama said on Thursday that he would veto the bill if it ever reached his desk. Though the legislation is highly unlikely to get that far, his statement was intended to pin the blame on the GOP's right flank for polluting the negotiations with ideological games. Calling the riders the sign of a "tea party extreme social agenda," Senate Majority Leader Harry Reid (D-Nev.) urged Republicans on Thursday to "save this argument for another day…We don't have the time."
But Boehner gave no sign that he was willing to budge on the controversial riders, as the GOP moved ahead with a vote on the bill. And right-wing activists are cheering him on. "Reid is willing to shut down government so people can have govt funded abortions in DC!?" Emily Miller, senior editor at Human Events, told blogger Michelle Malkin on Twitter.
When pressed about the bill's policy riders, however, House Republicans demurred—and simply continued bashing Democrats for harming America's troops. Asked whether the provisions were a dealbreaker, Rep. Tim Scott (R-S.C.) replied: "Not at this point. We're going to pay attention and see what happens." Instead, Scott—who's one of two freshmen elected to be part of the GOP leadership—reverted to the GOP's mantra of the day. If Obama's "vetoing the troops, that's his decision," Scott told Mother Jones. "If he's willing to leave the troops without a paycheck, that's his decision."
Florida's Young similarly denied that his support of the budget was contingent on the inclusion of the policy riders, turning the conversation once again to the troops. "The main thing that's a must for me is to get the defense appropriations into law," he said, thanking the scrum of reporters around him "for giving me a chance to vent a little."
Democrats, meanwhile, have denounced the GOP's latest attack as a crass and desperate ploy to evade blame for a looming shutdown. Republicans "are hurting politically…and they are trying desperately to avoid blame," Rep. Barney Frank (D-Mass.) told Mother Jones.
That said, Democrats generally agree that Boehner genuinely wants to reach a budget agreement, knowing that a shutdown risks hurting the GOP—contrary to his colleagues' claims that the public will fault the Democrats. But it's becoming increasingly apparent that Boehner's stuck between a rock and a hard right-wing place. After 54 Republicans voted against the last temporary budget extension last month—one that didn't contain the same hot-button policy riders—Boehner was forced to appeal to Democrats to pass his bill. The move that revealed both his inability to get his caucus in line and the clout of the GOP's most conservative members.
This week, Boehner made a radical pivot, allowing Rep. Paul Ryan (R-Wisc.) to roll out his drastic, entitlement-slashing budget for 2012 as proof of the GOP's conservative credentials. Lawmakers may still reach an agreement at the eleventh hour. But even so, the past week's proceedings show just how far the House Speaker—an old-school, country club Republican—has bent to his party's base. "Boehner never wanted to do this," Frank concluded. "This is tea party pressure."