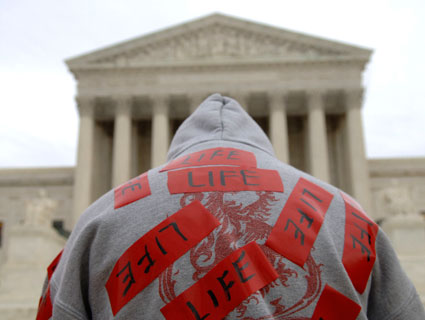 Fight disinformation:
Sign up
for the free
Mother Jones Daily
newsletter and follow the news that matters.
Anti-abortion lawmakers in state legislatures around the country have already drawn national attention—and outrage—for pushing bills that would drastically limit access to abortions. But in Louisiana, one "unapologetically pro-life" lawmaker wants to go even further. State Rep. John LaBruzzo, a Republican from Metairie, has introduced a bill that would ban all abortions in his state—with no exceptions for rape, incest, or the life of the mother—and charge women who seek abortions and the doctors who perform those abortions with "feticide."
Louisiana state law calls for jail sentences of up 15 years, with hard labor, for the unlawful killing an unborn child. LaBruzzo told the New Orleans Times-Picayune that the inclusion of the line subjecting women to "feticide" prosecution for seeking abortions was a "mis-draft," and including it "would make [the bill] too difficult to pass." He promised the provision will be removed from the bill before it goes to a committee vote. But while LaBruzzo doesn't expect to punish women who seek abortions, he would still like to see doctors working on the chain gang for providing a constitutionally protected medical procedure.
The Constitution, of course, is exactly what LaBruzzo is targeting. He admits his proposal is intended as a direct challenge to Roe v. Wade, the landmark 1973 case in which the Supreme Court ruled that the constitutional right to privacy included the right to abortions in some circumstances. LaBruzzo says he'd like his bill to become law and "immediately go to court," and he told a local paper that an unnamed conservative religious group asked him to propose the law for exactly that purpose. When contacted by Mother Jones, LaBruzzo's secretary said he would "prefer not to do an interview" on the bill but would possibly answer written questions. As of press time, he had not responded to our inquiries.
Aggressive attacks on abortion rights are nothing new for Louisiana. Access to abortion in the state is already pretty limited, with only seven providers in the state, says Julie Mickelberry, the spokeswoman for Planned Parenthood of the Gulf Coast. In 2006, then-Gov. Kathleen Blanco (D) signed a bill that would ban abortions in the state immediately should Roe v. Wade ever be overturned. The Bayou State's legislature passes bills related to abortion almost every year. Last year, it passed two—one that would require women to submit to an ultrasound before they can get the procedure, and another that would prevent doctors who perform abortions from obtaining malpractice insurance. Abortion rights groups have sued the state over both laws.
"I would venture to say that Louisiana has probably passed the most unconstitutional laws involving Roe v. Wade," says Bill Rittenberg, a New Orleans attorney who has worked extensively with the Center for Reproductive Rights on abortion laws in the state. Rittenberg estimates that he's represented advocates for reproductive rights in about 90 percent of their cases in the state, challenging a litany of laws over the years that sought to limit access to abortions. He says that the state is often a testing ground for some of the more extreme measures in the country because such bills usually pass the legislature. "The crazier it is, the more likely it is to pass," he says.
This isn't the first time that LaBruzzo has proposed radical measures on reproductive rights. As Robin Marty points out over at RH Reality Check, LaBruzzo has previously suggested that the state should pay poor women $1,000 to have their tubes tied as a means of reducing the number of people on welfare in the state. When he proposed this kind of program in 2008, he expressed concerns that women on government assistance programs were reproducing more than wealthier women. He also proposed offering tax incentives for "college-educated, higher-income people to have more children" as a means of combating that trend. While he floated the idea publicly, he never formally introduced a bill.
Abortion rights groups in Louisiana say LaBruzzo's abortion ban has a good chance of passing, given the strong anti-abortion tilt of the state legislature. If it becomes law, the ban will inevitably end up in court—exactly the outcome its proponents want. "The bill is purely political. It's not at all about preventing abortion—he said it himself," says Planned Parenthood's Mickelberry. "His intention is to give anti-choice groups a bill they can take to court."
---
Mother Jones is following a variety of efforts to curb abortion access around the country. We've covered legislative measures that would increase regulations on clinics (like Virginia and Arkansas), slash the number of weeks that abortions are available (like in Ohio, Minnesota, Kansas and Idaho), force women to view an ultrasound (like in Florida), or mandate visits to so-called "crisis pregnancy centers" (as they have in South Dakota). And at the federal level, Republicans in the House have tried to advance measures that would redefine rape and expand limitations on federal funding for abortion services.