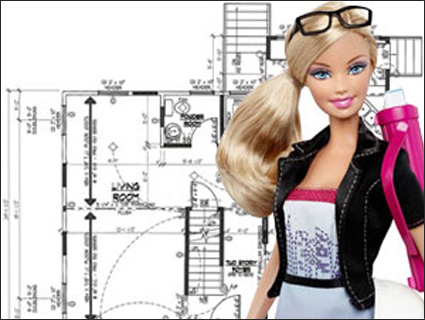 Fight disinformation:
Sign up
for the free
Mother Jones Daily
newsletter and follow the news that matters.
This post first appeared on the Mother Nature Network.
As part of toymaker Mattel's career empowerment-minded line "I Can Be …" collection of Barbie dolls, the pink corvette-driving blonde bombshell has been reimagined as Architect Barbie, complete with "symmetrically stylish outfit" and "essential on-the-job accessories" like a hard hat and pink document tube. Past "I Can Be …" Barbies have included movie star, veterinarian, dentist, lifeguard, news anchor, racecar driver, ballerina, and, ummm, bride.
The awesome fact that the brand's "career of the year" is architect (and not Pussycat Doll or cookbook-shilling Real Housewife) also has some historic significance: 2011 marks the 125th anniversary of women's acceptance into professional architecture associations. Says Despina Stratigakos, Professor of Architectural History at the University at Buffalo and Architect Barbie consultant: "For more than a century, women have chosen to become architects to express and give form to new ways of living. Yet some still consider architecture an unusual profession for a woman. Architect Barbie salutes the many generations of women architects and encourages young girls to imagine a better world they can design and build."
With an exciting new career in architecture, Barbie naturally needs stylish new digs which is why Mattel has teamed up with the American Institute of Architects (AIA) to launch the Architect Barbie Dream House Design Competition. I'm unsure why Barbie doesn't just design her own home since she's an architect now and has some pretty exacting guidelines (see below). I suppose she's just been pretty slammed taking on projects for new clients like Ken, Skipper, Teresa, Nikki, and Polly Pocket. Or maybe she's just been sitting by the pool and doing her nails while waiting for Tom Kundig to step in.
Open only to AIA members, submissions will be accepted through June 27. On July 12, five finalists will be announced and the Barbie-loving public will have the chance to vote on their favorite through August 1. A winning design will be chosen on August 2. Check out the complete contest requirements here.
And here are Barbie's guidelines, in her own words:
My Dream House should reflect the best sustainable design principles and also be a stylish space that I can live in comfortably. A sleek, smart home office is important for any doll.

With more than 125 careers, I need a spacious office that can accommodate my hi-tech gadgets for meetings, client visits and presentations.

I love to entertain so I need living and dining areas that are open and connected allowing for mingling and easy entertaining from one room to the other.

The kitchen should be functional and fabulous with top-of-the-line appliances—large countertops and lots of space to cook. I also love natural light in my kitchen so windows are critical. I am quite the chef you know!

As the original "fashionista," you can imagine how large my closet needs to be! I have unlimited fashions and accessories, so I need lots of shelving, shoe racks and a closet that can be easily organized—getting ready can't be a chore everyday.

My dream bathroom: a large, stylish space accessible from the master bedroom and other areas.

I love animals and I have as many as five pets (including a giraffe) around at any given time. A big backyard is very important so they can roam and play!

As the ultimate "California girl" from Malibu, I am all about location, location, location! My house must have fantastic views of my fabulous backyard and overlook the ocean.

The garage should be ultra-cool and have room for at least three cars.
I'm actually quite interested to see what a bunch of trained architects come up with while working (playfully) within above design guidelines. How will they incorporate green into a conceptual home that's most likely going to be pink (and going to have a 3-car garage!)? What eco-friendly features would you like to see included in Architect Barbie's dream home?
And for those of you with architecture and design-curious young ladies at home, Architecture Barbie is available for pre-order over at the Mattel Shop for $13.99. She ships August 15th, wears heels, and is a choking hazard.
For more content from the Mother Nature Network, check out 9 buildings shaped like what they sell, 7 of the greenest sports complexes in the world, and 14 green prisons.