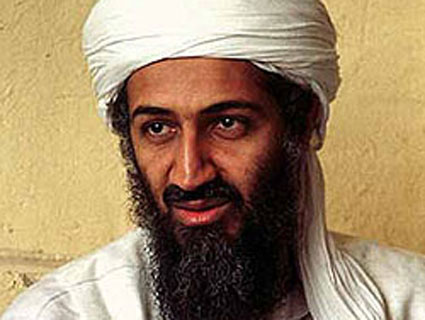 Fight disinformation:
Sign up
for the free
Mother Jones Daily
newsletter and follow the news that matters.
The headline news was the obvious: US raid kills Osama bin Laden. But the real prize obtained by the special forces that assaulted the compound in Abbottabad might not have been the Al Qaeda leader, but the information they scooped up during the 40 minutes they were on the ground.
Before the Navy SEALs airlifted out of the compound, they were "feeding this data to the targeteers," says a former CIA covert operative, who was at agency headquarters during the raid. He notes that "the phones [grabbed during the raid] can be dumped in seconds and uploaded in real time to headquarters."
According to the initial reports regarding the intelligence gathered in the raid, Bin Laden was more engaged in the leadership of Al Qaeda than many experts had assumed. Rather than being isolated in a cave, he was in this suburban compound exercising command functions for the terrorist network. Which suggests that specific information about Al Qaeda and its personnel and operations flowed through this facility. This intelligence—once translated, decoded (if any of it was coded), and analyzed—should provide US military and intelligence commands valuable information for attacking other parts of Al Qaeda. As the former CIA officer says:
There are many in the Al Qaeda leadership that have to assume their location, phones, and plans are exposed and are weighing whether they stay still, or run. If they move they risk instant detection, if they stay put, they will sweat that we are watching and waiting. The true impact of this raid on the Al Qaeda system is incredibly disruptive and destructive. We gathered up the command structures intel system and communications plans. That exposes everyone. I suspect we will capture or kill a lot of people over the next two weeks.
He points to news reports of a drone strike in Pakistan's North Waziristan region on Friday that killed at least eight suspected militants.
"The personnel and procedures are available to perform a kind of triage," says Paul Pillar, a former top analyst at the CIA, "which involves quickly perusing material just enough to separate what is time-sensitive from what is not. The time-sensitive stuff then has high priority to be fully analyzed. The stuff that can wait (which is usually most of the stuff) can wait until resources later are freed up to address it. "
The material gathered at bin Laden's last house might provide intelligence that goes beyond information useful for neutralizing Al Qaeda leaders and operations.
Wayne White, a former State Department intelligence analyst points out that the treasure trove could contain material that helps the United States and NATO sort out the tangle of Taliban and assorted extremist groups that they are fighting in Afghanistan and Pakistan. He notes, "Should the trove of information reveal (in part, by way of the nature of contacts with Al Qaeda), which portions of the Taliban & friends are the most doggedly hostile to us, those could be targeted more selectively."
That is, if a Taliban-related group was in Bin Laden's address book, Kabul might think twice about engaging in reconciliation talks with it: "Should we move closer to negotiations with elements of the Taliban, the improved granularity that might emerge from the documents could cast light on the political stance of various elements of the Taliban and could well identify those portions of the anti-Kabul resistance who would be more amenable to meaningful talks and those most likely to reject such overtures or enter into negotiations primarily to deceive."
White adds: "I place the emphasis on the hope that this trove of information will provide highly useful information that can assist at a more strategic (or higher) tactical level than just chasing al-Qaeda bad guys."
Chasing the bad guys is fine work, and this material—if interpreted and decoded sufficiently—will presumably fuel plenty of chasing. But it might also provide policymakers with additional insights useful for ending or diminishing the war in Afghanistan and countering extremist-driven instability in Pakistan.