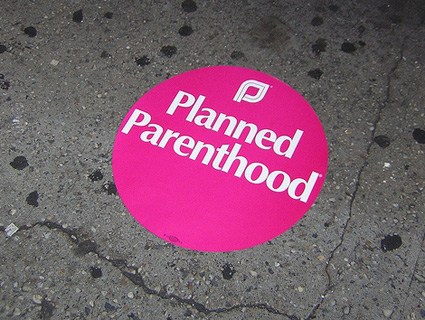 Fight disinformation:
Sign up
for the free
Mother Jones Daily
newsletter and follow the news that matters.
Planned Parenthood may have been spared on the federal stage, but its state-level situation continues to deteriorate. Today, the majority of Planned Parenthood's clinics in Indiana are shuttered; the organization has been forced to take a one-day mandatory furlough in order to scrimp and save in the wake of brutal state funding cuts.
On May 10, Governor Mitch Daniels signed a law that stripped the state's Planned Parenthood clinics of any Medicaid funding (none of which, by the way, was ever used to pay for abortions), compromising the care of 93,000 Indianan Planned Parenthood patients who rely on it. Since then, private donations have funded patient care, but that well is about to run dry—as of Tuesday, Medicaid patients in the state need to come to Planned Parenthood armed with alternate funding.
"The one-day furlough should allow us to save enough money to keep our doors open during this brief window between now and the expected ruling," said Planned Parenthood Indiana (PPIN) President and CEO Betty Cockrum in a press release. "We know this is a personal hardship for our employees and our patients, and we had so hoped to avoid it."
The ruling Cockrum refers to is to be handed down by a federal judge by July 1. She is hearing Planned Parenthood's challenge to the law, and will decide whether to suspend its enforcement during the case. The Obama administration voiced its support for PPIN, but a final resolution will still take time, so the provider is desperately trying to keep its funding in the interim. "If we receive a favorable ruling, we would be restored as a Medicaid provider as we continue to fight our lawsuit. At that point, we would not be facing center closures," PPIN spokesperson Chrystal Struben told me. "If we ultimately win the case—we are hopeful that we will—then there would be no need to look at closures."
If, however, the judge rules against Planned Parenthood, the organization is looking at the closure of eight clinics. The law also stripped PPIN of funding for sexually transmitted disease prevention treatment, and two of its STD specialists had to be laid off as of Tuesday.
As if this wasn't enough bad news for women's health, in a similar move, Governor Scott Walker is expected to sign Wisconsin's newly balanced budget that eliminates funding to nine out of 25 Planned Parenthood clinics. Congratulations, Wisconsin, you've joined the ranks of North Carolina, Kansas, and of course, Indiana—all states who've attempted to dismember branches of the health care organization.
But there is hope for PPIN yet. As an earlier MoJo post points out, the state could get in a lot of financial trouble for dismissing the government's rules on Medicaid. This will hopefully push the legal proceedings in the direction of a quick resolution…before most of PPIN's clinics go completely broke.