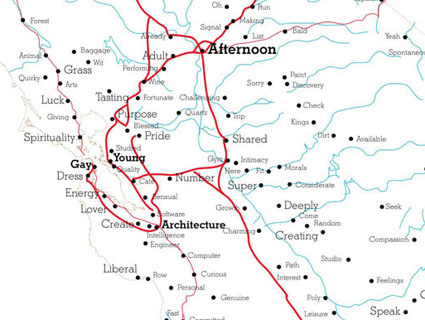 Fight disinformation:
Sign up
for the free
Mother Jones Daily
newsletter and follow the news that matters.
Last year, an artist named R. Luke Dubois joined 20 online dating sites, not in search of love, but data. After sampling more than 19 million profiles, he created "A More Perfect Union," an atlas that remaps America based on how we digitally describe ourselves to potential partners. In this new nation, where place names are dictated by the aggregation of proclivities and personalites, New York has become Now. Chicago is Always. Los Angeles is Acting. Las Vegas is Strip. Richmond, Virginia is Tobacco. St. Petersburg, Flordia is Dieting. Anchorage is Outdoorsy. Omaha is Steak. San Francisco is Gay.
Look closely at the maps and you'll discover more previously uncharted communities. Zooming in on the San Francisco Bay Area reveals new towns and neighborhoods: North Beach and Chinatown are Folksy; Potrero Hill is Silkscreen; the Outer Richmond is Subconcious. Oakland is Hyperactive. Sausalito is Transsexual. The area near San Quentin is Bratty. Surrounded by locales with names like Dateable, Lucious, Unmitigated, and Kitten, the quiet delta burg of Crockett sighs: Whew.
Find your new hometown here.
(h/t Flowing Data)