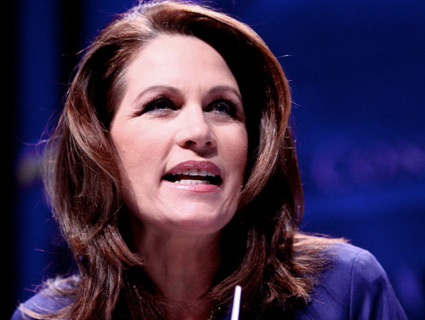 Fight disinformation:
Sign up
for the free
Mother Jones Daily
newsletter and follow the news that matters.
Among all the reactions to June's abysmal job numbers, Rep. Michele Bachmann delivered what some saw as the most callous.
During a morning interview on CNBC, host Carl Quintanilla asked the congresswoman, "Does it strike you that as the unemployment rate goes up your chances of winning office also go up?" Bachmann started her reply by stumbling on the words, "Well, that could be. Again, I hope so."
Some in the lefty blogosphere seized upon this, taking those eight words to mean that Bachmann cynically hoped for an economic breakdown that would increase her odds of winning the White House in 2012.
Think Progress wrote:
While it's of course acceptable for Bachmann to campaign on wanting to turn the economy around, it's another matter entirely when she actively pursues policies that make the economy worse — while hoping it will help her campaign.
Daily Kos weighed in similarly:
[Y]ou've got to give [Bachmann] credit for being honest. Not many Republicans are willing to publicly admit that they hope sabotaging the economy will help them win in the 2012 elections.
AlterNet, The Raw Story, and others ran with the same narrative. But anyone watching the full interview could see that Bachmann hardly comes across as someone hankering for a jobs market implosion. From the footage, it's clear that what she is "hoping" for is to be president, and to inject her Tea Party philosophy into national economic policy:
I have seen up-close-and-personal how devastating high taxes are on…businesses and families…[I want to] bring my background, skill, and expertise to be able to actually change the economy.
There is plenty of room to criticize Bachmann's flawed economic thinking and her propensity for saying pretty absurd, nasty stuff (like when she accused the First Family of harboring "anti-American views"). But those arguments can—and should—be made without distorting her message or excising context. However off-the-mark she can be, claiming that this interview shows that Bachmann yearns to see the American economy plummet sounds a lot like Ann Coulter saying that liberals wanted the US to "fail" in Iraq. It's just not credible.
Here's the video: