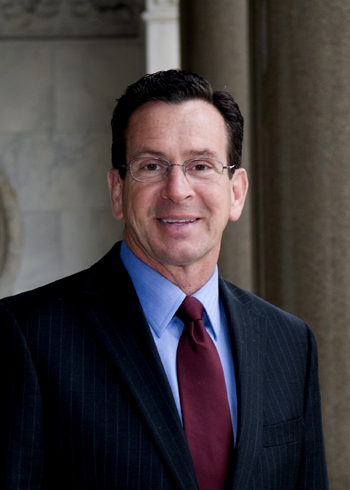 Fight disinformation:
Sign up
for the free
Mother Jones Daily
newsletter and follow the news that matters.
This year, we've been inundated with news of states stripping collective bargaining rights, slashing unemployment benefits, and generally reducing workers' rights. Connecticut, however, is bucking the trend.
Connecticut Gov. Dan Malloy, a Democrat, announced on Tuesday that Connecticut will be the first state in the nation to mandate paid sick leave for employees. Malloy's bill says companies with 50 or more employees have to allow workers to accumulate an hour of sick leave per 40 hours worked, and the bill is expected to impact as many as 300,000 workers in Connecticut.
Here's more from the Washington Post:
Malloy made his support of paid sick leave a campaign issue last year, saying it was to safeguard public health. He persuaded wavering lawmakers to vote for it, Prague said. "He was the key factor, there's no doubt about it," she said.

Backers have compared the legislation with workplace standards such as the minimum wage, which was enacted in the 1930s, and occupational safety and health standards, which were adopted in the 1970s.

"When we raise the minimum wage, it raises wages for everyone," said Jon Green of Connecticut Working Families, which lobbied for the legislation. "I think we'll see paid sick time follow a similar trajectory over time."
The passage of Malloy's bill was a long time coming for workers' rights groups. Similar bills failed to make it through the Connecticut legislature on three previous tries. Here's the Women's Media Center on the backstory behind Malloy's bill:
The win is the result of years of work by Connecticut Working Families, a grassroots organization that spearheaded the Everybody Benefits Coalition, which brought together labor unions and business owners, school nurses and janitors, faith leaders and public health experts, waitresses and restaurant owners. All of them recognized that paid sick days are critical to promoting a healthier, more productive workforce and strengthening the economy.

Lawmakers heard moving testimony from workers like Cheryl Folston, a livery service driver who felt pain in her chest, but couldn't miss a day's work to see a doctor. Only after Cheryl was laid off and finally had time to see a doctor, did she learn she had a serious heart tumor—a tumor her doctors say that could've killed her if she had waited any longer for treatment.

Workers like Cheryl Folston were joined by business leaders like Louis Lista, owner of the Pond House Cafe in Elizabeth Park. He provides paid sick days because it wouldn't be fair to his employees to make them work sick and would be bad business to put customers at risk of getting ill from sick workers. Louis told legislators he found that paid sick days saved money in the long run because of reduced turnover. He has dishwashers who've been on staff for more than five years—a rarity in the food service industry.

Personal stories like these moved lawmakers to defy the powerful Connecticut Business and Industry Association, which had made its opposition to paid sick days a centerpiece of its agenda. And amidst their lobbying against a few paid sick days, new research showed that the business community's concerns about paid sick days legislation were unfounded.