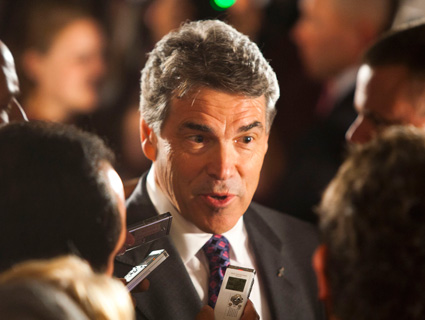 Fight disinformation:
Sign up
for the free
Mother Jones Daily
newsletter and follow the news that matters.
Come lunchtime at Whispering Lakes Ranch, a "resort style" subdivision rising amid the cow pastures to the south of Houston, the local taco truck gets mobbed. Near the counter, José, a 30-year-old carpenter from San Luis Potosí, Mexico, steels himself against the 100-degree heat with slugs from a mango agua fresca. His grueling job installing doors and windows is a cakewalk compared to sewing bras at a maquiladora, which paid as much in a week as he now earns in a day. Yet José barely makes more than minimum wage. Native-born Americans don't want his job because "they already make a lot of money," he figures. He doesn't reply when I politely wonder if he's in the country illegally.
As Texas Gov. Rick Perry charts a course to the GOP presidential nomination, his stance towards workers like José could become a flash point. On the one hand, the GOP's tea party base demands that undocumented immigrants be arrested and deported. On the other, wealthy Republican donors in Texas rely on the influx of cheap labor to make money. José, whose last name I've withheld for his protection, works for homebuilder Bob Perry (no relation), the governor's largest political donor and a strong proponent of permissive immigration policies.
Torn between both wings of his party, Gov. Perry has occupied the middle ground—a place that he rarely inhabits. According to syndicated columnist Miguel Perez:
Perry led the nation in allowing undocumented immigrant students to pay in-state tuition in Texas state universities. He has been opposed to immigrant-bashing and racial profiling laws such as Arizona's SB 1070, saying they would not be right for Texas. He has questioned the effectiveness and rejected the use of the federal E-Verify system, designed for employers to check the legal status of job applicants. He has described efforts to deny citizenship to the US-born children of illegal immigrants as "divisive," and he has been critical of Republicans who spew hatred of immigrants.
Not surprisingly, the anti-immigrant organization Numbers USA gives Perry a D- grade on immigration. (Michele Bachmann gets a C.) A Maryland bill that would mimic Texas' policy allowing in-state tuition for undocumented immigrants faces major protests from the right. A coalition of tea party groups recently called on Perry to implement E-Verify by executive order. Cognizant of these headwinds from his base, Perry has shifted rightward on immigration, pressing this year for a bill that would have ended "sanctuary cities" by taking away municipalities' ability to keep police from asking about suspects' immigration status.
In a general election, it's conceivable that Perry could turn his record on immigration into a strength. Texas is not a national outlier on immigration policies so much as a brutal testing ground. Here, exit polls in 2010 showed a higher tea party affiliation than anywhere in the country, and yet the low-wage economy—the bedrock of the so-called "Texas Miracle"—depends on a steady influx of workers from south of the border. Perry's approach has been a shrewd blend of satisfying the tea party base by trumpeting the need to secure the border (which is a federal responsibility, not to mention pretty much impossible) while protecting his corporate donors from liability stemming from hiring undocumented workers. Even if he alienates some voters, that stance may have an upside in locking in donors such as Perry, chicken magnate Lonnie "Bo" Pilgrim, and H-E-B grocery chain CEO Charles Butt, all of whom have previously supported him.
Make no mistake: Perry won't follow in the footsteps George W. Bush, who earned a staggering 40 percent of the Hispanic vote in his 1998 gubernatorial election and stuck his neck out in 2006 to call for immigration reforms that would give the undocumented a path to citizenship. (Perry, by contrast, recently bombed before the National Association of Latino Elected and Appointed Officials conference in San Antonio with a joke about how José Cuevas, the head of his Alcoholic Beverage Commission, reminded him of José Cuervo tequila.) "Hispanics are not going to get suckered into this guy," says Texas political consultant Dan McClung. "I don't think he's any different on immigration than he is on any other issue; he's an extremely conservative guy. It's just that immigration affects a hell of a lot of big businesses in the state."