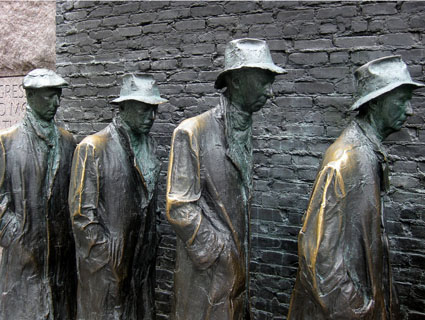 Fight disinformation:
Sign up
for the free
Mother Jones Daily
newsletter and follow the news that matters.
Labor Day was created more than 100 years ago to celebrate the might, ingenuity, and achievements of American workers. But for many, this year's holiday is a painful reminder of how few good jobs are out there. To mark this Labor Day weekend, here's a roundup of 10 eye-popping statistics on the American jobs crisis. It's a sobering snapshot of the issue that worries Americans more than any other—and which hangs over President Obama as he gears up for his big jobs speech on Thursday (not to mention his reelection campaign).
25.3 million Americans: The true size of the unemployment crisis. This figure includes people who are out of work, forced to work part-time, or unable to find a full-time job, as well as those who want to work but have given up searching for a job in the past month, most likely out of frustration.
6.9 million jobs: How many fewer jobs there are today than in December 2007.
0.22 jobs: The number of job openings per one unemployed worker.
Twenty-eight out of 32 months: The number of months since January 2009 that job growth failed to keep up with basic population growth (roughly 150,000 jobs a month). All those headlines saying job growth has stalled are wrong; it's not even doing that.
43%: The percentage of jobless workers who haven't pulled a steady paycheck in more than six months. That's 6 million workers.
16.7%: The jobless rate for African-Americans. Black unemployment is now at its highest in 27 years.
11.3%: The Hispanic unemployment rate. This figure has held steady since February 2009.
17.7%: The unemployment rate for 16- to 24-year-olds of all races, ethnicities, and educational backgrounds. Often overlooked, youth unemployment has a long-term toll; young people who enter a weak job market are almost guaranteed to earn less over their lifetimes than those who find jobs during boom times.

280,000: The number of jobs the American economy needs to add each month to fill its 11.3 million-job deficit by the middle of 2016.
35,000: The average number of jobs the economy actually added in the past three months.