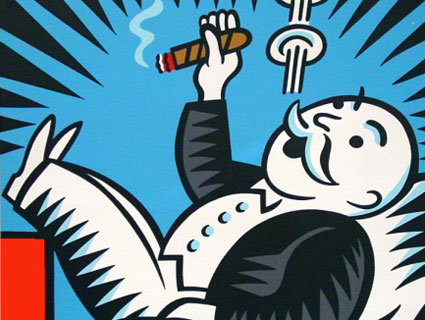 Fight disinformation:
Sign up
for the free
Mother Jones Daily
newsletter and follow the news that matters.
Read our inside account of the Koch brothers' Vail seminar, and listen to the exclusive audio.
Twice a year, the billionaire industrialist brothers Charles and David Koch host secretive retreats for an exclusive list of corporate America's rich and powerful to strategize and raise money for their right-wing political agenda. Mother Jones has obtained exclusive audio recordings that shed some light on the brothers' latest retreat, held at a resort near Vail, Colorado, in late June.
In a speech that is part of these recordings, Charles Koch thanks donors who gave more than $1 million to the cause. We checked the audio against a list of participants at the Kochs' 2010 seminar in Aspen that was obtained by ThinkProgress.org and did additional research on these individuals. Below are the names Koch read that appeared on the previous guest list.
John Childs: Childs is the founder and CEO of private equity firm JW Childs Associates. In 2006, Boston Magazine placed the "notoriously media-shy" magnate—a.k.a. "the Republican ATM"—among the city's wealthiest residents, reportedly worth $1.2 billion. Childs donated $750,000 to outside political expenditure groups in 2010. He's also been involved in Florida wetlands conservation efforts.
The Cortopassis: Dean "Dino" Cortopassi and his wife, Joan, hail from Stockton, California. This article, which identifies the pair as philanthroposts, calls Dino a "wealthy self-made agribusinessman who is Stocktonian of the Year for 2005." He is suing the state of California for its failure to dredge streams in the Sacramento-San Joaquin Delta.
Joe Craft: Joseph Craft is president, CEO, and chairman of Alliance Resource Partners, a coal company based in Tulsa, Oklahoma, that gave $2.4 million to outside political expenditure groups in 2010. His family is reportedly worth $1.9 billion.

The DeVoses: Rich and Helen DeVos hail from Michigan. The cofounder of Amway and owner of the NBA's Orlando Magic, Rich DeVos is reportedly worth in the ballpark of $4.2 billion. The Richard and Helen DeVos Foundation funds conservative Christian groups such as Focus on the Family. The DeVoses are big enough political donors to have their own profile at OpenSecrets.org.
The Farmers: Dick Farmer is from Ohio. The founder and former CEO of the Cintas Corporation, his story is literally rags-to-riches: He turned his father's Depression-era rag-cleaning business into a $3.5 billion enterprise. Farmer and his wife, Joyce, are longtime Republican boosters; during the 2002 election cycle the couple gave about $1 million to the party.

The Friesses: Foster Friess founded the investment firm Friess Associates in 1974 with his wife, Lynn; in 2001, he sold a majority share for $247 million. Friess is a champion of conservative Christian causes and one of Wyoming's richest men. His son, Steve Friess, helps him run the family's philanthropic foundation. (Steve's wife, Polly, was also on the list of Aspen Koch participants.)
The Fullinwiders: Jerry and Leah Fullinwider hail from Dallas. Jerry has pursued oil exploration and development in the United States, Canada, and Russia. He now serves under Ross Perot's son as vice chairman of Hillwood International Energy, which has operations in Iraq and Jordan as well as the United States and Russia. He also has ties to Hilarion Alfeyev, an anti-abortion Russian Orthodox bishop.
The Gilliams: Richard Gilliam and wife, Leslie, are natives of southwest Virginia. Richard founded the Cumberland Resources Corporation, which was one of the nation's largest private coal mining companies when Massey Energy bought it for nearly $1 billion in March 2010. He's now a director with the Vancouver-based mining corporation Endurance Gold.
The Griffins: Ken and Anne Dias Griffin are a hedge fund power couple from Chicago who wed in 2003. Ken is the founder and CEO of Citadel and is reportedly worth $2.3 billion. Anne founded one of the nation's largest woman-run hedge funds, Aragon Global Management. Ken bundled money for both President Barack Obama and Sen. John McCain during the 2008 election.
The Haworths: Richard "Dick" Haworth is the former CEO and chairman emeritus of Haworth, an international office-interiors manufacturer based in Holland, Michigan, that he took over from his father in 1975. The company reported sales of $1.4 billion in 2005, the year he retired. He is married to Ethie Haworth and has donated more than $100,000 to Republican causes, according to OpenSecrets.org.
Diane Hendricks: Hendricks is the billionaire former head of the ABC Supply roofing company, which she took over from her husband Kenneth after he died in a construction site accident in 2007. Reportedly worth $2.2 billion, she is the richest businesswoman in Wisconsin and a big Republican Party donor. She recently gave her state's embattled Republican governor, Scott Walker, $10,000 in advance of a potential recall vote next year.
The Humphreys family: Ethelmae Humphreys is the chair of the board of Tamko Building Products, one of the country's largest independent roofing manufacturers. She also serves on the board of directors of the Cato Institute, a Koch-funded think tank. Her son David is Tamko's CEO. The two have doled out hundreds of thousands of dollars to Republican candidates. That includes David's $25,000 donation to the successful recount effort this year of conservative Wisconsin Supreme Court Justice David Prosser, who came under fire recently for allegations that he choked a fellow justice. (He wasn't charged.)
The Levys: Kenneth Levy of Mountain Lakes, New Jersey, cofounded the Jacobs Levy equity management firm and has donated about $85,000 to conservative causes, according to FEC records. His wife, Frayda Levin, is a national director at the Koch brothers' advocacy group Americans for Prosperity and sits on the board of the Club for Growth. She also cofounded the Motion Picture Institute, which "promotes liberty through film," according to her AFP bio. FEC records show that she has given well over $100,000 to conservative causes.
The Marshall family: Elaine Marshall of Dallas is the widow of E. Pierce Marshall, a son of oil tycoon J. Howard Marshall who served on the board of Koch Industries before his death. Elaine was involved in a successful effort to prevent the late Playboy Playmate Anna Nicole Smith, who married Howard when he was 89, from inheriting the family's wealth. Before Smith's death, she was investigated by the FBI but never prosecuted in a murder-for-hire plot against Pierce. In the end, Pierce inherited the bulk of his father's wealth because he and his father had previously helped Charles and David Koch thwart a takeover of Koch Industries; Howard's eldest son—also named Howard—sided against his father and was disinherited as a result. Meanwhile, Elaine's son, E. Pierce Marshall Jr., is senior vice president and general counsel at oil exploration company MarOpCo. Another son, Preston Marshall of Houston, is the president of MarOpCo.
The Popes: Art Pope is a millionaire Republican booster from Raleigh, North Carolina, who inherited his retail fortune from a family business. According to this article, he's "one of the most trusted members of the Koch's elite circle" and a regular at the Kochs' secret seminars, as well as a "valuable junior partner in many key Koch operations." He's another national director at Americans for Prosperity and is married to Kathy Pope. According to this October 2011 New Yorker profile by Jane Mayer, who has also profiled the Koch brothers, Pope has dumped millions into sculpting the political landscape in North Carolina, a swing state—including giving money to outside groups that fund malicious attack ads.
The Robertsons: Corbin Robertson is CEO and chairman of the board of Natural Resource Partners, a Houston-based fossil fuels company. He's also been involved with a number of other energy organizations and was listed as the richest US small-business owner in 2007 by CNNMoney. He and wife Barbara have donated to the Baylor College of Medicine and both Democratic and Republican politicians.
Karen Wright: Wright is the founder and CEO of the Ariel Foundation, a private philanthropy group based in Mount Vernon, Ohio. She's also CEO of the Ariel Corporation, a natural-gas compression company, and on the American Petroleum Institute's board of directors. She has donated more than $100,000 to Republican causes, according to OpenSecrets.org.
Tom Rastin: Rastin shares a Mount Vernon, Ohio, address with Karen Wright. He serves on the board of directors at the Ariel Foundation and is vice president of marketing and engineering at the Ariel Corporation. Last year, he gave $2,400 to the failed congressional campaign of former Democratic Louisiana House Speaker Hunt Downer, who switched to the Republican Party after endorsing the Bush-Cheney ticket in 2000.
The principals with the Services Group of America: SGA is a billion-dollar food services wholesaler; its CEO, Peter Smith of Scottsdale, Arizona, appears on the list of 2010 Koch attendees. Smith took over as CEO last year after its former head, GOP heavyweight Thomas J. Stewart, died in a helicopter crash. According to FEC records, Smith has donated $12,500 to Republican congressional candidates. SGA's political action committee donates heavily to Republicans.
At the event, Charles Koch also read off names that did not appear on the 2010 attendees list, but that mirrored those of well-known GOP donors for whom giving $1 million or more to the Kochs would not seem out of character. You'll find these names below. We chose not to offer any details on the handful of names for which we could find no association with Koch business interests or conservative political giving. (Listen to Charles Koch reading the donor list.)
The Camerons: Ron Cameron of Little Rock, Arkansas, runs agribusiness giant Mountaire Corporation, which generated $1.22 billion in revenue in 2009. He has donated at least $175,000 to Republicans in recent years, including $5,000 to Sarah Palin's PAC, according to FEC records. The company itself has given at least $125,000 to outside spending groups over the past decade, according to OpenSecrets.org.
The Hamms: Self-made magnate Harold Hamm of Oklahoma City is reportedly worth $8.2 billion. The son of sharecroppers, Hamm soared up the corporate ladder from gas station attendant to CEO of "America's Oil Champion," Oklahoma-based Continental Resources. According to OpenSecrets.org, he's doled out more than $100,000 to political causes and candidates, mostly Republican. Stricken with diabetes, he and wife Sue Ann founded a center at the Oklahoma University Health Sciences Center to help combat the disease.
The Haydens: Jerry and Marilyn Hayden of Barrington, Illinois, doled out $400,000 to conservative-leaning outside spending groups in 2010 and about $250,000 to Republicans in 2008. Before retirement, Jerry ran Peacock Engineering, a packaging company. As of September 2008, he served on the board of directors at the United Republican Fund of Illinois. The Haydens recently donated $2.5 million toward an alumni center at their alma matter, Bradley University.
Virginia James: James is an investor from New Jersey. She has donated handsomely to right-wing causes, including a $750,000 gift to the Club for Growth in 2008 and another $350,000 last year. This year, she donated $25,000 to the successful recount of Wisconsin's Justice Prosser.
The Menards: John Menard of Eau Claire, Wisconsin, is the founder of Menards, the country's third-largest hardware company. He's worth a reported $5.2 billion and has donated about $80,000 to his state's Republican Party and federal candidates, mostly Republicans, according to FEC records. His company backed a recent anti-union program that was linked to the Kochs' Americans for Prosperity and supported by Gov. Scott Walker.
John Moran: Hailing from Palm Springs, Florida, Moran is the former chairman of the Dyson-Kissner-Moran Corporation, an international holding company based in New York City. He also chaired the Republican National Finance Committee from 1993 to 1995. Moran has given more than $900,000 to Republican causes since 1991, according to OpenSecrets.org, and he bundled between $250,000 and $500,000 more for McCain's 2008 presidential bid. In 1997, he warned that the religious right was putting his party's future "in jeopardy."
The Schwabs: Charles Schwab of San Francisco is founder and chairman of the Charles Schwab Corporation, the country's largest independent brokerage firm. He is reportedly worth $4.7 billion. Since 1989, Schwab has donated more than $1.6 million to political causes, mostly Republican, according to OpenSecrets.org. Part of that went to his company's lobbying arm, which has given away millions more.
Paul Singer: While Singer is not on the list of Aspen participants, the New York Times noted that "Annie Dickerson, who also runs a foundation for Paul Singer, a hedge fund executive who like the Kochs is active in promoting libertarian causes," showed up at that seminar. Singer founded the $17 billion hedge fund Elliott Management and recently issued an economic manifesto slamming the Federal Reserve as a "group of inbred academics."
The Templetons: John "Jack" Templeton Jr. and his wife, Josephine, of Pennsylvania, gave $50,000 apiece to Wisconsin Justice Prosser's recount effort this year. Jack, an evangelical Christian, has donated more than $1 million to Republicans, according to state and federal records. He heads the John Templeton Foundation, an organization whose critics—including prominent scientists—say it aims to apply scientific legitimacy to matters of faith. The foundation was started by Jack's late father, Sir John the mutual fund billionaire, and in 2009 reportedly had $1.7 billion in assets.
Be sure to Read Part 1 of our two-part series: "Exclusive: The Secret Koch Brothers Tapes."
And check back tomorrow for Part 2, on the GOP superstar who rocked the Koch crowd on opening night.