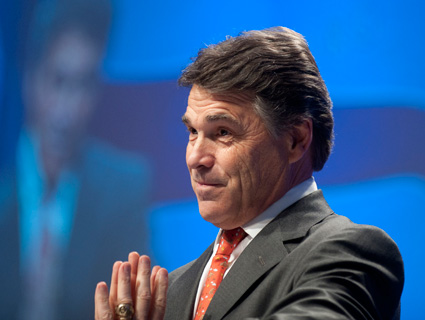 Fight disinformation:
Sign up
for the free
Mother Jones Daily
newsletter and follow the news that matters.
Over the past several years Gov. Rick Perry has crisscrossed his home state, bragging about the Texas Enterprise Fund, his economic program that has given millions of taxpayer dollars to corporations such as Caterpillar Inc., Texas Instruments, and Home Depot. The TEF program is supposed to draw businesses to the state and create jobs. It has been a centerpiece of the so-called Texas economic miracle Perry now touts on the presidential campaign trail.
But there is a problem behind his happy Texas tale: The program appears not to have worked nearly as well as Perry claims. The governor has repeatedly overstated how many jobs it has created, according to several Texas-based advocacy and research groups. Moreover, Perry's office has stonewalled attempts to get clearer information about the program's lackluster results.
In January 2010, Perry's office claimed that TEF had created 54,600 jobs since it began in 2003. But company-reported data shows that, by the end of 2009, fewer than 23,000 jobs could be attributed to TEF. And two-thirds of TEF-backed companies failed to meet their job targets. The program handed out nearly $440 million during that period.
The TEF program requires applicants to agree to produce a certain number of jobs by a certain date in exchange for a grant, the largest of which have been a pair of $50 million awards granted to the Texas Institute for Genomic Medicine and Texas Instruments back in 2004 and 2005. (Former presidential candidate Tim Pawlenty enacted a similar program during his time as governor of Minnesota.) Recipients are supposed to face a "clawback" penalty on the funds if they fail to meet their hiring targets.
But the Perry administration hasn't exactly gone hard on corporations that have fallen short. In 2007, TEF awarded Lockheed Martin with nearly $5.5 million; in return, the company promised to create 800 new jobs by the end of 2008. Subsequently, Lockheed quietly renegotiated its deal with Perry's office, agreeing to just 550 new jobs from 2007 through 2014, explaining the lower number as a result of "federal cutbacks." In exchange, TEF also lowered its grant to Lockheed to $4 million unless the company managed to meet its original hiring target of 800. Meanwhile, Perry's office didn't collect any clawback penalties from Lockheed—while continuing to report that it had created 800 jobs.
This scenario—Perry's office allowing companies to amend their job targets while continuing to tout the higher, unrealized target—was replicated in more than a dozen other instances in 2009, Texans for Public Justice (TPJ) found. The group's 2010 report drew on campaign finance fillings, company-reported hiring data, and the Perry administration's own numbers.
The program also suffers from a conspicuous lack of transparency, according to Andrew Wheat, the research director for TPJ. Wheat says that his colleagues intended to use government data from 2010 to assess the program, but they were forced to rely on numbers from 2009. "We put in a request to get that data covering 2010," he said. "We're still waiting."
Even if Perry's office disclosed its TEF numbers more expediently, Wheat argues, the game would still be rigged. "Imagine what the bean counter's job is like," he said. "On the one hand, you're supposed to be conservatively protecting taxpayer dollars and imposing clawbacks, basically enforcing a contract. On the other hand, you know that this is the centerpiece of your boss' campaign. So it has to be presented as a success."
Don Baylor, a senior policy analyst at the Center for Public Policy Priorities, says there is no way to verify Perry's claims more broadly. "It's quite simply not possible to know whether these companies would have come to Texas without the cash," Baylor says.
One thing is clear, though: Perry paid for a sizable chunk of TEF at the expense of Texas' unemployed. Because the Texas Legislature is required to submit a balanced budget every two years, any new spending programs must be offset by an equal amount in spending cuts. So in 2005, to offset spending on TEF, Perry created a 0.1 percent employer unemployment insurance tax. To offset that increase, the general unemployment insurance tax rate was reduced by 0.1 percent. From 2005 to 2009, that resulted in a transfer of almost $162 million from the unemployment fund directly to Perry's TEF fund.
Politicians of both parties are clamoring for clarity on TEF. Last year, former gubernatorial candidate and mayor of Houston Bill White, a Democrat, called for a formal audit of TEF spending on a biotech lab based at Texas A&M University, Perry's alma mater. His objective was simple: to get a clear explanation of why certain companies had been allowed to reduce their employment goals after they'd already been awarded TEF money. "We asked for basic information, such as whether companies had met the original projections or commitments for increased employment they had submitted to the state when wanting the taxpayers to finance their businesses," White said. His call for a public audit was ignored.
State Republicans also take serious issue with Perry's program—especially tea party members like Rep. David Simpson. "It's legal plunder," Simpson told Bloomberg. "You can't avoid the appearance of impropriety when you take money from everyone and you give it to a select few."
That problem is only compounded by the fact that over the years, a number of the the program's beneficiaries—including huge banks like JPMorgan Chase and Bank of America—have contributed hundreds of thousands of dollars to Perry-associated PACs.
Even without the program, Texas' low-tax, heavily deregulated business climate may well have shielded it from the worst of the recession. But thanks to Perry's not-so-sly system of corporate welfare, we may never know for sure.