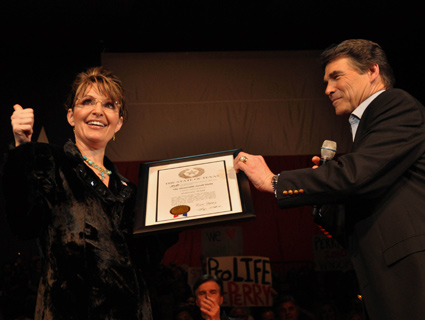 Fight disinformation:
Sign up
for the free
Mother Jones Daily
newsletter and follow the news that matters.
Forget cowboy hats, wide vistas, or the mileage on the typical F-350 ranch truck. The biggest thing in Texas is the state's outsized sense of identity. Ever since the Battle of the Alamo immortalized Davy Crockett, the Lone Star State and its residents have loomed larger than life in popular mythology. Texas has its own rugged archetype in Hollywood, its own ethnic cuisines, and its own "national" beer and magazine. No state is better known as a cultural standout.
In Austin, where state identity is the manna of politics, governors have long upheld the tradition of naming worthy outsiders "honorary Texans"—a title that Crockett, a Tennessee native who died fighting for Texas, would have deserved. Foreign dignitaries, actors, and musicians have been the most popular picks, though some governors have gotten more creative. (Check out the stories behind 10 of the more unconventional picks.) Ann Richards named a breast cancer victim and a women's basketball star. George W. Bush named a Catholic nun and an insurance lobbyist. And Rick Perry named Glenn Beck, Sean Hannity, Rush Limbaugh, and Sarah Palin.
Though politics always seems to play a role in Texan identity, Perry appears unique among governors in honoring so many ideologues. A detailed search of newspaper archives reveals only a handful of past honorary Texans who could be considered partisans, the closest being William Hague, the leader of Great Britain's Conservative Party, who was named by Bush. But unlike the former president, who also honored Bob Dylan and a Democratic congressman, Perry hasn't balanced his picks with people who are obviously from the other side of the aisle.
"Rick Perry believes being a Texan means being a right-wing blowhard," notes the Houston Press. A lot of non-Texans now agree. Under Perry, the state's identity has become smaller and less inclusive. And for a place where expansiveness is a point of pride, that's about as close as you can get to an identity crisis.
Here's a list of honorary Texans named by Perry and seven former governors, as culled from news clips:
RICK PERRY, Republican (2000-present)
Sarah Palin, Alaska governor and tea party fave
Rush Limbaugh, conservative talk radio host
Glenn Beck, conservative TV personality
Sean Hannity, conservative commentator and Fox TV host
Rudy Giuliani, mayor of New York City
Yang Jiechi, Chinese ambassador
Sunil Dutt, Bollywood actor and member of the Indian parliament
Russell Crowe, actor best known for his role in Gladiator
Chris Knight, country music star
Serge Borlee, Lance Armstrong's Belgian bodyguard
Dhani Jones, linebacker who played for Cincinnati Bengals
Pete Sampras, tennis pro
GEORGE W. BUSH, Republican (1995-2000)
Bob Dylan, musician and '60s counterculture icon
Jonathan Ledgard, Economist correspondent
John Bruton, Irish Prime Minister
Jean Chretien, Canadian Prime Minister
William Hague, leader of Great Britain's Conservative Party
Bob Borbridge, premier of Queensland, Australia
Chip Taylor, singer best known for "Wild Thing"
Erato Kozakou Marcoullis, Cypriot envoy
Carl Leubsdorf, Washington bureau chief of the Dallas Morning News
Albert Jennings, insurance lobbyist
Ilham Aliyev, president of Azerbaijan
Alexander Downer, Australian foreign minister
Sister Gertrude Levy, Catholic nun
Rep. G.V. "Sonny" Montgomery, US Congressman (D-Miss.)
ANN RICHARDS, Democrat (1991-95)
Christopher Berry Green, descendant of the Londoner who rented an office to the Republic of Texas in 1842 for its British diplomatic HQ
David Keltner, Assistant Deputy for Education for the Secretary of the Army
Marty Stuart, rockabilly/country star
Lionel "Skip" Meno, Texas Education Commissioner
Rachel Hemmer, women's basketball star
Parents of Jerry Jeff Walker, country music star
Arnold Schwarzenegger, actor and future California governor
Maria Gwiazda, Polish immigrant who died of breast cancer hours before she was to become a US citizen
Ervin Duggan, President of PBS
Bob Hope, comedian, actor, and USO star
Don McLean, singer best known for "American Pie"
BILL CLEMENTS, Republican (1979-83 and 1987-91)
Deng Xioping, Chinese leader
DOLPH BRISCOE, Democrat (1973-79)
Christi Wolfington, a girl whose Texan father was unhappy that she was not born in Texas
Nicolae Ceausescu, Romanian president
JOHN CONNALLY, Democrat (1963-69)
The 100th and 442nd infantry divisions of the US Army
PRESTON SMITH, Democrat (1969-73)
Shirley MacLaine, actress, occultist, and lefty political activist
ALAN SHIVERS, Democrat (1949-57)
General Douglas MacArthur, US Army chief of staff