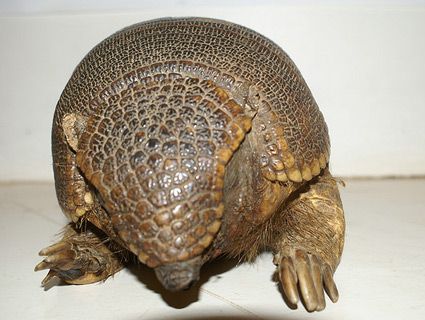 Fight disinformation:
Sign up
for the free
Mother Jones Daily
newsletter and follow the news that matters.
Picture, if you will, the world's strangest horror movie premise: It's a crisp autumn in Washington, DC, Barack Obama is president, and the city's 600,000 unsuspecting residents are going about their daily business. Suddenly, out of nowhere, hordes of hungry, rugged armadillos from the deep South start taking over the metropolitan area, savaging private property in search of nourishment and generally wreaking havoc on the nation's capital.
The horror flick would have a strong environmentalist message to boot, because armadillo-mageddon is yet another side effect of anthropogenic climate change, which has forced the creatures to colonize northward.
And here's the scariest part: this B-movie scenario is actually about to go down in the real world. So, yeah … brace yourselves.
DailyClimate.org reported in June that the armadillos, which have been "moving northward since [they] arrived in Texas in the 1880s and Florida in the 1920s," have taken the rising temperatures as a cue to migrate to previously uninhabited places like Kansas, Missouri, Illinois, and other areas that are "totally unexpected," according to Colleen McDonough, a biology professor at Valdosta State University. Miles Grant at The Green Miles noted the story in a recent blog post, which the Washington Post then followed up on this week, noting that the armadillos are headed our way:
Biologists speculate that if the trend continues, the armadillo may soon be turning up in Washington, Maryland and Virginia, and even as far north as New Jersey. …

[The armadillos] "can be fairly destructive to areas in their search to dig up delicious crawly treats," the Museum of Life and Science reported.

"Basically all we can do is … sit back and measure the change as it happens," the University of Michigan's Philip Myers [said], "whether we like it or not."
The biggest threat the roving armadillos seem to pose is lawn damage (despite the mildly alarmist tone of the WaPo blog post). In fact, most people would probably get a kick out of watching packs of armadillos waddling down K Street. But there is a level of seriousness to the issue, as one-way animal migration caused by global warming presents real and persistent problems for ecosystems and local communities.
Still, sad as it it may be for Roland Emmerich, the DC armadillo invasion is probably not going to lead to an epic showdown between man and throngs of armored, placental critters.