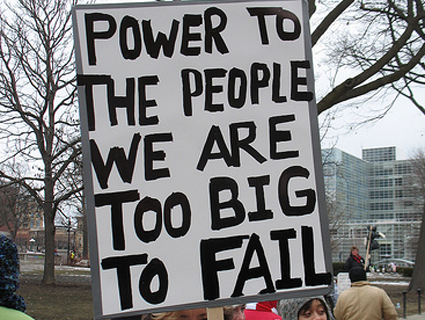 Fight disinformation:
Sign up
for the free
Mother Jones Daily
newsletter and follow the news that matters.
Nearly one month into the Wall Street occupation, critics are bemoaning the movement's inability to funnel its rage into something actionable. But some participants are letting their money do the talking—by taking their cash out of the hands of corporate financial giants altogether. Bank Transfer Day, launched on Facebook and racking up an attendance list of 45,000+, urges major bank account holders to transfer their funds into community banks or local credit unions by November 5 (Guy Fawkes Day).
This event comes on the heels of a recent hike in fees at large national banks. Bank of America, Citibank, and Wells Fargo have recently announced plans to charge customers $3 to $5 per month for using a debit card. Frank Keating, President and CEO of the American Bankers Association, lays the blame for the fee hike on the Durbin amendment. Introduced by Senator Dick Durbin (D-Ill.), the amendment puts a federal cap on the swipe fees banks collect from merchants when customers make debit card purchases, amounting to a projected $1 billion loss in profit for the banks.
But Durbin wasn't too pleased with the effect his legislation is having on big banks. "It's hard to believe that a bank would impose such a fee on loyal customers, who simply are trying to access their own money," he said on the Senate floor earlier this month."Bank of America customers…get the heck out of that bank."
Ron Lieber, a personal finance columnist for the New York Times, told NPR that banks "feel the need to make up the money that they've lost. Now, need is an interesting word in this context…theoretically they could earn less and not pass on the cost to customers, but they are choosing to pass the cost off."
Credit unions and community banks may see an uptick in customers who are fed up with this increase in fees from megabanks. Last Tuesday, CO-OP Financial Services reported that credit unions are providing the same level of access as large national banks. To date, more than 90 million Americans belong to a credit union and are benefiting from low interest rates, shared branching, and over 28,000 ATMs available for 3,000 credit unions, located in various retail locations including 7-Elevens, Costco, and Walgreens outlets.
George Hofheimer, chief researcher at the Filene Research Institute, tells Mother Jones that "some of the top myths about credit unions (CUs) is about service and access. Some consumers perceive CUs as unsophisticated, but most credit unions are full service retail financial institutions. Around access, consumers aren't aware of the many collaborative features of CUs like shared branching and shared ATM networks." As for Bank Transfer Day's impact, Hofheimer adds, "there's a tremendous amount of inertia on the consumer side regarding switching financial institutions. Bank Transfer Day may give consumers the nudge they need to reconsider whether their banking relationship is right for them in the long term."
Some customers have already started to pull the plug on their accounts at major banks, to the dismay of their bankers. In Santa Cruz, a woman was kicked out of a local Bank of America because, according to a bank teller, "you cannot be a protestor and a customer at the same time."
To make the transition into credit unions easier, Representative Brad Miller (D-N.C.) introduced a new bill to Congress called the Freedom and Mobility in Banking Act. In a press release, Miller declares, "as megabanks flirt with menus of new fees, an increasing number of Americans will want to switch banks…unfortunately customers who might benefit from opening a new bank account…are often dissuaded from doing so because of the considerable incovenience it can entail." The bill attempts to prohibit abusive fees and charges associated with closing an account and will give consumers the right to close at any time. Backed by the AFL-CIO, Consumer Federation of America, and the Conference on Civil and Human Rights, this bill couldn't come at a more appropriate time.
(And if you're contemplating a move, this how-to-guide on how to close your account, prepared by consumer advocate Alex Bogusky's FearLess Revolution blog, and FindACreditUnion.com, may come in handy.)