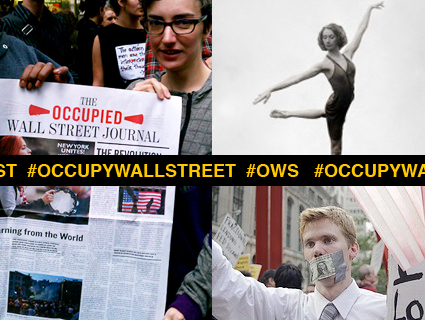 Fight disinformation:
Sign up
for the free
Mother Jones Daily
newsletter and follow the news that matters.
MoJo's Josh Harkinson has been reporting from lower Manhattan's Zuccotti Park and surrounds since October 8. For his up-to-the-minute dispatches, follow him on Twitter here. Read on for many of his updates from today, as well as from MoJo's Tim Murphy in Washington, DC; Gavin Aronsen in Oakland; Dave Gilson in Berkeley; and Lauren Ellis in Los Angeles.
[12:35 a.m. ET Sunday] Josh, from New York reports that Washington Square Park has largely cleared out, with protesters leaving in a chaotic rush. "Now police walking around with a bullhorn. 'If you would like to remain in the park past midnight you will be subject to arrest.'" Not everyone rushed to leave. Josh spotted "about 10 or 15 people still in the park, all singing Woodie Guthrie songs, surrounded by more than 100 riot cops in face shields." Then: "I barely avoided getting zip cuffed as I was filming the arrest…Extremely powerful. I'm shaking right now and can barely type." A community affairs officer told him "all the police have been up long hours and are tired and just want to go to sleep." Asked if the protesters could return to Washington Square Park tomorrow night, the officer replied, "That's what Zuccotti Park is for." See Josh's exclusive video of the dramatic showdown in Washington Square Park:
 [11:20 p.m. ET] Josh, from New York reports that "Police are starting to remove barricades from south end of Times Square. I think this is slowly winding down." He's since headed down to Washington Square Park for an OWS general assembly meeting. The turnout has been impressive. "It was a great idea to hold it here. Easier to assemble and attracts a bunch of NYU kids." Cops are there too, "reminding people that park closes at midnight. Given how long #ows mtgs last, could be problem." Earlier he overheard one police officer saying to others, "If you want your sticks you should get 'em now." Josh writes, "About 30 percent of my group wants to spend the night. Bandanna girl: 'I'm ready. It's about time. I'm ready to get arrested.'" With less than an hour before the park is officially closed, he tweets, "So there's about 40 minutes before some major shit goes down here."
[8:45p.m. ET] Josh, from New York, has a PSA:
Her sign is not entirely correct: $1.14 million is the average income for the wealthiest 1 percent of Americans; their minimum income is closer to $344,000. Still, this is a good excuse to plug our income inequality charts.
[8:15 p.m. ET] Josh, from New York, reports that things are getting tense with the police at Times Square.
 Not that there's not still some good humor to be found:
[5 p.m. PT] Various staffers at #OccupySF report big crowds (estimates range around 15,000) now at City Hall.
[6:40 p.m. ET] Josh, from New York, Outside, as riot cops jogged past, I met Dylan from Michigan, on online writing instructor with a sign that said, "Occupy Change." He still has a "smidgen of hope about Obama, and really hopes that #OWS and #99percent movement can help him do something more. Dylan's father lost his health insurance, and now he has to take care of his dying wife on his own. But today at #October15, Dylan is beaming. "People are awake and passionate and talking for the first time in my life."
[6:15 p.m. ET] Josh, from New York, reports as do others that riot cops are entering Times Square. "The way that NYPD is handling this is really stupid. Protesters are split into 4 barricaded sections around Times Square. NYPD should give protesters the street. There's not enough space, and the crowd is agitated because they want to unite into a single group."
[6 p.m. ET] Josh, from New York, reports big crowds in Times Square. "Going to Times Square a brilliant idea. All the images of stupid MSM sh*t and tawdry ads against regular ppl with heart-wrenching signs."
[5:15 p.m. ET] Josh, from New York, has just interviewed a woman who works for Citigroup and supports #OWS:
"Along the #OWS march route, at 24th and 6th, I found a woman who works at Citigroup, the bank where 20-30 protesters were arrested today. She told me that she is a big #OWS supporter. 'I'm surprised that this didn't happen sooner,' she said. She does risk management for Citigroup, a job that pays decently, but nothing close to what top execs make. She thinks their pay is obscene. She's also worried about the future of her children in an economy where only the tippy-top of the tax bracket does well. She was just an observer, but added that several other pro-#OWS Citigroup workers from her office have joined the march today. Discreetly."
Also, via Reuters social media editor Anthony De Rosa, check out this raw video of a woman arrested today at Citibank in lower Manhattan, allegedly because she was closing her account as part of a group action.
[4:10 p.m.ET]
Lauren, from LA: "March stopped at city hall, stage at temple. Band expected to play #occupyla… 'We don't have one demand because we don't have one problem.'…Tim, 25, next to me, regarding his bloody fingertips: 'I haven't stopped drumming since i got here.'…Drummer from The Doors just arrived at the #occupyla stage."
[4 p.m.ET]
Josh, from New York: "The Occupied Wall Street Journal is being handed out as marchers head up 6th to Times Square."
[3:15 p.m.ET]
Dave, from Berkeley: "#Occupy Berkeley still pretty sleepy. Overheard: 'More photographers than people here.'…Guys burning dollar bills. Smells kinda toasty…Overheard re: mic check: 'This is just like first grade. Too much like catechism.'"
In the end, Dave reports, "#OccupyBerkeley rally/march drew 200+ people. There was much consciousness raising—fortunately not enough to wake the baby napping on me."
[2:30 p.m.ET]
Josh, from New York: Protesters marching into Washington Square Park:
[2:24 p.m.ET]
Gavin, from Oakland: "Many #occupyoakland demonstrators appreciate MoveOn's support but will not endorse the group as official part of the movement. They worry that, similar to how the GOP establishment took over the Tea Party, groups like MoveOn could turn #ows into an Obama reelection drive."
[2:15 p.m.ET]
Tim, from Washington, DC: "Really interesting chat with an #occupydc organizer, Rob Wohl. ('We're all organizers,' he says.) He was disillusioned with 'We'll build a puppet of Hillary Clinton dressed as Hitler and we'll get arrested and change the world' activism. Lefties in the '00s were 'moribund,' he says. He waited to get involved until he was confident that this was something different."
[2:05 p.m.ET]
Josh, from New York: Marchers have arrived at Washington Square Park, where the police are out in force and are ready for mass arrests:
More from Washington Square Park: "I'm sitting in the park listening to a regular-looking dad explain to his elementary schooler what's going on. 'This is the first time in a long while, he says, 'that so many people have gotten so mad at their country that they are taking to the streets.'"
And how do the police feel about all this?
"I asked an officer with NYPD Community Affairs if cops support the protesters, or at least their goals," Josh reports. "He referred me to NYPD spokesmen, who he said could put me in touch with commanders. 'But how to I talk to regular rank-and-file cops?' I asked. He said they aren't allowed to talk. But then he suggested I button-hole them when they get off shift at police departments. I've had & seen short exchanges with cops suggesting they're supportive."
[1:36 p.m.ET]
Josh, from New York: "Anti-war march a small subset of #OWS stuff. Chasing bigger march up 6th Ave. Easy to find now: Following @ 10 police vans…Caught up with #OWS march. It's a mix of glossy union signs and hand-made placards scrawled on pizza boxes…We're in the West Village now. Lots of smiling observers. Feels as much like a parade as a march…Lots of "We are the #99Percent " chants. There has been talk of making that main hashtag of the movement. It's more universal than #OWS."
Here's a photo he took of the anti-war marchers.
[12:24 p.m.ET]
Tim, from Washington, DC: "Unscientific estimate of about 100 #occupydc folks marching through the Mall. A lot more at Freedom Plaza too for statehood rally…thousands of union folks here for "March for Jobs and Justice."
Pretzels, he reports, are also in abundance.
[12:15 p.m.ET]
Josh, from New York, has the lowdown on The Proper Business Attire Working Group, which is outfitting #OWS campers with 150 suits for the day's actions. Why? "We find that suits are a tool, a tool with many uses," they say. "You could use it to gain access to a bathroom—or walk past a police barricade." Check out the inspired video they've put together at SuitsForWallStreet.org (Slogan: "Delivering subversive threads to Wall Street Occupiers"):