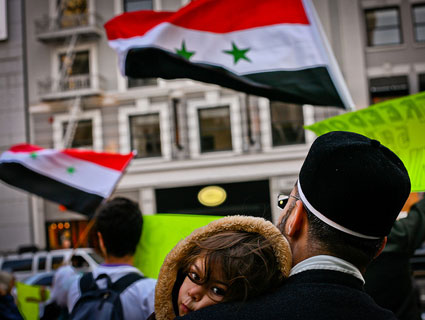 Fight disinformation:
Sign up
for the free
Mother Jones Daily
newsletter and follow the news that matters.
The US State Department is looking into allegations—first reported by Mother Jones last week—that the Syrian regime is using a California company's internet-filtering technology to aid its crackdown on dissidents.
The company, Blue Coat Systems, denies selling its products to Syria. But that hasn't been enough to head off a government probe into the matter. "The issue of Blue Coat's technology being used in Syria is one that the State Department is taking very seriously and is very concerned about," a State Department official told the Washington Post on Saturday. State Department officials are "reviewing the information" they have about Syria's use of US technology and "monitoring the facts," a spokeswoman told the BBC on Monday.
Tech experts say that electronic records released by the hacktivist collective Telecomix earlier this month prove that Syria is using Blue Coat's technology. "Every IP address in all of the information released is registered in Syria," Jacob Appelbaum, a computer science researcher at the University of Washington, told Mother Jones last week. "Every IP address routes from Syria or from known Syrian equipment with the expected latency of machines run in Syria."
Appelbaum believes the technology is capable of more than just blocking particular websites and search results: "It's a super policeman with a general warrant who spies on every person, records everything about that person and their activities and then it acts as the judge, jury and executioner," he said.
Selling internet-blocking devices or software to Syria directly would likely violate harsh US sanctions against the country. But if Syria obtained the technology through an intermediary, Blue Coat could be in the clear—provided that the transfer of the equipment happened without Blue Coat's knowledge or consent. A Blue Coat spokesman told Mother Jones last week that the company forbids its customers from reselling its products to embargoed countries. The company has opened its own investigation into the allegations, a spokesman told the BBC.