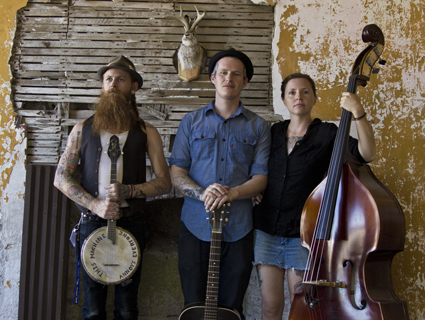 Fight disinformation:
Sign up
for the free
Mother Jones Daily
newsletter and follow the news that matters.
The Devil Makes Three, a diabolical threesome of guitar, banjo, and upright bass, are masters at befuddling the critics with their genre-bending antics. They are more comfortable with the "hardly" and the "strictly" than the "bluegrass" part of San Francisco's free annual Hardly Stricly Bluegrass festival, where I saw them recently. Singer/guitarist Peter Bernhard told me that the media obsession with pinning their sound to a specific genre takes the fun out of letting their music answer the question. "Frankly, we never get that [bluegrass] association from fellow musicians who actually play bluegrass—it just comes from the fans and writers," he says.
To set the record straight, Bernhard and banjo player Cooper McBean recently quipped to Pop Culture Madness, "We sound like Freddy Mercury with a pogo stick on a back of a pony with Lyle Lovett playing the ukulele and the tamborine. If you don't understand that, you don't understand us."
In short, bandmates Bernhard, McBean, and bassist Lucia Turino could care less if their bluegrass/blues/old-time/punk/Americana sound confuses obsessive-compulsive music fans. The band's fiendish power lies in its ability to transform a crowd into a rollicking clusterfuck of heavy stomping, do-si-do-ing debauchery—a vibe that (at least at Hardly Strictly) brought carousing fans and mothers with cooing babies together as one big, jolly, rhythmic family.
Bernhard and McBean, both born and bred in Vermont, moved out West after high school and ended up in Santa Cruz, where they met Turino. As the story goes, sparks flew at their first jam—and after Turnio mastered the stand-up bass (which she hadn't played before), the trio began making a name for itself. DM3 is well known for its high-octane shows, like its sold-out sets at San Francisco's Cafe Du Nord and a recent two nighter at Petaluma's Mystic Theater, the venue where they recorded Stomp and Smash: Live at the Mystic Theater, released last week on iTunes.
The new album includes infectious sing-a-longs, like their homage to Jack Daniel's "Old Number Seven" (though Bernhard admits that he prefers beer), and a raucous rendition of Blind Willie McTell's "Statesboro Blues." Their acoustic numbers make for fantastic drinking songs: Check out "Gracefully Facedown" for an ode to weeklong benders; "Do Wrong Right," on indulging your inner demons; and "Shades," which pokes fun at skanky barflies.
Beyond his musings on the bottle and it's hell-raising powers, Bernhard's everyman stories and the band's carefully crafted rhythms offer a perfect recession soundtrack for audiences who feel as helpless and frustrated as their Dust Bowl predecessors once did. "Graveyard," one of Bernhard's personal faves, kicks off with solemn guitar plucking, over which he sings: "I wanna tell you a story / ain't got no characters in it but me / I wanna sing you a sad song / Most of it, I don't expect you to believe." Tales of sychophants, robbers, and the plight of the working man suck listeners into Bernhard's diary of America past and present.
Bernhard does his writing all on his own. "I've got to be alone," he says. "I usually go to a room and force myself to stay there in solitary confinement." The stories he comes up are sometimes fictional, sometimes inspired by the people he meets, and they sometimes touch on issues affecting the nation. In their travels, the bandmates might find themselves at a rodeo in Bozeman, Montana, or a back alley New Orleans club where colorful characters and die-hard fans bum rush them to strike up a conversation. "We've somehow tapped into a thread that's shared amongst all sorts of people: hip-hop heads dig us, metal heads, it runs the gamut. We've gotten all sorts of strange things [from fans]; somebody gave me a hawk foot, another gave me hair from a buffalo."
The musicians are now taking a well-deserved break after a sprawling US tour. Their last order of business, though, involved a concern that's all but disappeared from national headlines: the aftermath of Hurricane Irene. On Friday, they hosted a benefit at Vermont College to raise cash for the Vermont Disaster Relief Fund.
Bernhard was raised in "middle of nowhere Vermont with a rural delivery route, dirt roads, and not a lot else," so he can relate. Irene's torrential rains ravaged destroyed roads, bridges, farms. "The flooding has ruined all the crops because the water was so polluted," Bernhard points out, "and even with FEMA, these people don't have the money to fix it and neither does the state." Just fixing the roads may cost up to $700 million.
But one thing's for sure in these uncertain times. You can count on The Devil Makes Three to turn a hellish situation into one hell of a party.
Click here for more music features from Mother Jones.