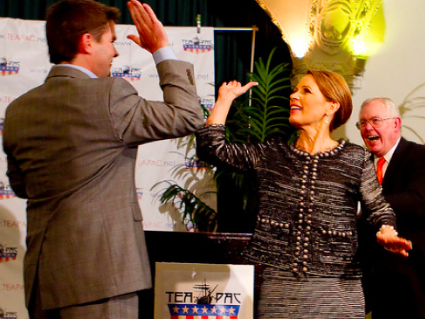 Fight disinformation:
Sign up
for the free
Mother Jones Daily
newsletter and follow the news that matters.
At this point, a combeback seems pretty nigh impossible for Rep. Michele Bachmann (R-Minn.). On Friday, the GOP presidential candidate was informed during a radio interview that her entire New Hampshire campaign staff had quit. That came at the end of a week in which her former campaign manager, Ed Rollins, told National Review Online he wished he'd Googled her before he took the job, and the latest polls in Iowa put her at 4 percent—33 points behind front-runner Herman Cain, who had not visited the state in two months before this weekend.
You can blame Rick Perry for taking away Bachmann's momentum after the Ames Straw Poll, and Cain for ensuring she never got it back. But most of the blame must lie with Bachmann herself, who has run a bizarre celebrity-style campaign and done little to convince conservatives she's best prepared for the most powerful job in the world. Her first book comes out in November, so she'll likely stick it out until then at least, but given her weak finances, Bachmann's a good candidate for an early exit from the presidential race. For the Minnesota congresswoman, it's time to start thinking about what comes next.
The experience of running for president and losing can do strange things to a person. Al Gore grew a beard. John C. Breckenridge took up arms against the Union. Aaron Burr tried to start his own country. And when Theodore Roosevelt lost his re-election bid under the Bull Moose banner in 1912, he got as far away from Washington as he could, leading an expedition up a previously unexplored Amazon tributary literally called the "River of Doubt." (Things got so gnarly that at one point, he contemplated suicide). The prospect of Bachmann taking off for Brazil, pith helmet and machete in tow, is admittedly unlikely—but is it impossible? Here's an incomplete look at what Bachmann could decide to do:
Even Money: Return to the House: Minnesota laws prevent Bachmann from running for the House and presidency concurrently, but she doesn't have to file her paperwork for re-election until June 5, by which point she'll almost certainly be out of the presidential race. Working in her favor: So far, no Sixth District Republicans have stepped in to announce they're running for the seat, and her 2010 Democratic opponent has switched districts. Bachmann has refused to comment on her re-election plans
2–1: Work for Fox News: Roger Ailes' network has served as a jobs program for failed conservative politicians. After 2008, he gave Mike Huckabee his own show and inked Sarah Palin as a contributor "because she was hot." And it's not as if a disastrous exit from the political stage would be a deterrent; disgraced former South Carolina Gov. Mark Sanford closed a deal with Fox on Friday.
5–1: Independent activism: Forget all that talk about being a tax attorney; Bachmann's real career in Minnesota was as a grassroots activist, crusading against creeping globalism in public schools, which she believed could lead to another Holocaust. Now that she's built a national following (it's worth noting that plenty of folks who won't vote for her still really like her) she could find herself with a sweet gig at a place like the Family Research Council (she used to do education policy for the group's Minnesota affiliate). Or she could try to build up her political action committee, Many Individual Conservatives Helping Elect Leaders Everywhere PAC. (It's an acronym.)
10–1: Dancing With the Stars: Why not? Tom DeLay did it.
20–1: Run for Senate: Democratic Sen. Amy Klobuchar—whose official bio notes that her senior thesis on the Hubert Horatio Humphrey Metrodome "is still used at colleges and universities across the country"—is up for re-election next November. Republicans would surely prefer to have Tim Pawlenty challenge Klobuchar, but given that her job approval ratings remain abnormally high, they might have more luck recruiting Bachmann, who has proven to be perfectly amenable to the idea of throwing herself into a totally lost cause. Working against her: She would probably get crushed.
100–1: Get a Phd. Bachmann misrepresented her credentials for years in Minnesota, touring the state under the billing of "Dr. Michele Bachmann" although she only had a J.D. and a Masters. Now's her chance to earn the title.
200–1: Vice President: Mitt Romney has barely offered Bachmann so much as an expressionless head nod on the campaign trail, with the exception of one vaguely condescending question at the New Hampshire debate that was really just a sly way of dissing Rick Perry. But Herman Cain (are we seriously having this conversation?) is a professed fan of the congresswoman, and there will likely be some calls for the nominee to pick a woman as his running mate.That doesn't leave the GOP with many options.
5,000–1: Join the Navy: