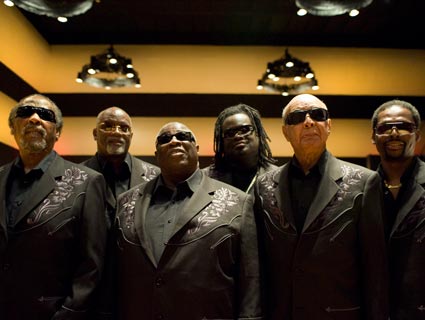 Fight disinformation:
Sign up
for the free
Mother Jones Daily
newsletter and follow the news that matters.
After seven decades, you wouldn't expect the Blind Boys of Alabama to be dabbling in reinvention. After all, with five Grammys, more than 60 albums, and a spot in the Gospel Music Hall of Fame under its belt, this legendary group has quite clearly cracked the elusive code to stardom.
And yet, the Blind Boys are always shaking something up: Their classic songs of praise have backed everything from cuddly Disney movies to gritty TV dramas like The Wire and Lost. Bucking partisanship, they've performed at both the Bush and Obama White Houses. These seven men—four blind, three sighted—have taken their sound far beyond religious settings, sharing a stage with Prince, sampling styles from rock to reggae, and even treading the late-night circuit—Leno, Conan, Letterman—with unflappable poise. Now on tour for Take the High Road, their first ever country-gospel record, their quiet rebelliousness is alive and well.
But if you ask what drives their medley of achievements, the answer is streamlined and unequivocal: "It all has to be centered around gospel," says vocalist Jimmy Carter. "We don't deviate from that."
Founded in 1939 at what was then Alabama's Talladega Institute for the Negro Deaf and Blind, the band spent 40 years performing in black gospel circles, from churches to high school auditoriums. Offers to make the jump to pop music came and went, but the Blind Boys, committed to the tunes they'd picked up in school choir, weren't interested. In 1983, they landed a key role in the soon-to-be smash hit musical The Gospel of Colonus, and with that came wider audiences, secular relevance, and eventually fame.
Through it all, country music was on the back burner: "It seemed so farfetched then for a black, blind gospel group to do a country gospel record," says Carter—the only current member still billed as one of the group's founders. "But I love country music, so we finally gave it a try. It's my favorite recording I've ever made."
Halfway through the set, all the spirited romping had created a dust cloud so tall it obscured the stage.
That thrill was palpable last month when the Blind Boys played a packed field at San Francisco's Hardly Strictly Bluegrass Festival. As soon as they hit the stage, they had families, hippies, and hipsters dancing feverishly to the twanging guitar and soulful harmonies of Take the High Road's title track. The crowd danced even harder to the band's rendition of "Amazing Grace," set to the tune of "The House of the Rising Sun." Halfway through the set, all the spirited romping had created a dust cloud so tall it obscured the stage. By the end, the audience was stomping, clapping, and cheering for an encore; the Blind Boys delivered "I Know a Place," a ballad from the new album.
This sort of reaction is typical, regardless of what holy book or deity (if any) the audiences subscribe to. The Blind Boys' lush lyricism and deep vocals move onlookers to sing, snap, and dance to the spunky sounds of their divinely inspired repertoire.
That's in part because of the group's commitment to versatility. Their 2008 album, Down in New Orleans—a post-Katrina tribute to the Big Easy—is filled with vintage NOLA jazz rhythms, contemporary keyboard riffs, and the occasional bluesy chord. There Will Be a Light, the Blind Boys' 2004 collaboration with guitarist Ben Harper, is a bona-fide rock album. It also experiments with soul—"Wicked Man" is a great example—and some full-on folk, with a cover of the Bob Dylan/Danny O'Keefe tune "Well, Well, Well."
"You have to be able to sing to all kinds of people," Carter told me backstage after their dust-raising set. "We're a traditional gospel group. But having said that, we had to change with the times. We do it all."
But the real key to the Blind Boys universal appeal is that they create joy, plain and simple. In an era high on mashups and multimedia, there's an irresistible ease to their toe-tapping tunes, fiery voices, and perfect pitch. As the world around them changes, they adjust, but it's always on their own terms.
As for blindness, the group doesn't harp on it. "Our disability doesn't have to be a handicap," says percussionist Ricky McKinnie. "It's not about what you can't do. It's about what you do. And what we do is sing good gospel music."
Here's "Take the High Road":
And their bluesy rendition of "Amazing Grace:"
Click here for more music features from Mother Jones.