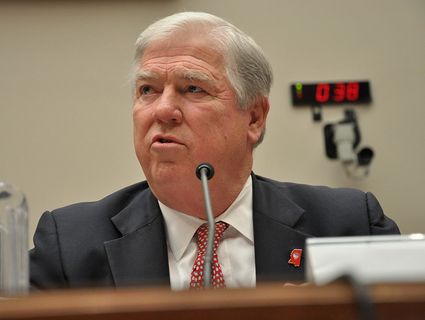 Fight disinformation:
Sign up
for the free
Mother Jones Daily
newsletter and follow the news that matters.
Next Tuesday, Mississippi voters will vote on a constitutional amendment, ballot question 26, to define life as beginning at the point of fertilization—a move that would make all abortion illegal, even in cases of rape. It would also ban many kinds of birth control (a spokesman for the Yes on 26 campaign calls the morning-after-pill a "human pesticide") and make in-vitro fertilization exceedingly difficult. Despite all of that, both the Democratic and Republican nominees for governor and attorney general have endorsed the measure, as has Mike Huckabee and Deanna Favre (wife of Brett).
But via Tanya Somanader, at least one Mississippi Republican is voicing concerns with the measure: outgoing Governor Haley Barbour. In an interview with NBC's Chuck Todd on Wednesday morning Barbour suggested that, although he hadn't made up his mind, he might vote against it:
"I believe life begins at conception," he explained. "Unfortunately, this personhood amendment doesn't say that. It says life begins at fertilization, or cloning, or the functional equivalent thereof. That ambiguity is striking a lot of pro-life people here as concerning. And I'm talking about people that are very, outspokenly pro-life." When Todd asked Barbour if he would vote for it, the Governor said, "Really I haven't decided. If you would have asked me when this was first proposed, I would've said, a.) the legislature would've passed it 100 to 1. And b.) I believe life begins at conception and therefore I would be for it. I am concerned about some of the ramifications on in vitro fertilization and ectopic pregnancies where pregnancies [occur] outside the uterus and [in] the fallopian tubes. That concerns me, I have to just say it."
Barbour's in good company, at least nationally. James Bopp, the counsel for National Right to Life, opposes Personhood amendments as a rule, on the grounds that they'll result in counterproductive court rulings.