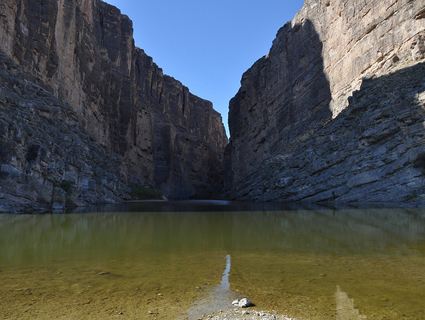 Fight disinformation:
Sign up
for the free
Mother Jones Daily
newsletter and follow the news that matters.
On Thursday, GOP front-runner—yes, front-runner—Newt Gingrich signed a pledge from the North Carolina group Americans for Securing the Border. Per the terms of the pledge, the former House speaker has committed himself to completing a fence along the Mexican border by the end of his first year in office. As Gingrich put it in Des Moines, "We haven't been able to build a fence on the border because we have not been a serious country."
But as the Los Angeles Times notes, the pledge has an important caveat: It explicitly states that the Department of Homeland Security should determine which parts of the border need a fence. Under that criteria, Gingrich would only need to extend the fence by two miles to finish the job America has been too unserious to complete.
Although the border fence mandated by the Secure Fence Act of 2006 called for a 700-mile stretch of fence, the Department of Homeland Security later urged Congress to modify the law. That's because only a fraction of the border actually stands to benefit from having a physical barrier; the billions of dollars it would take to construct a barrier through Texas' Santa Elena Canyon (see above) could be much be better spent doing pretty much anything else. As Border Patrol chief Michael Fisher told Congress in October, "we have now constructed 650 miles of fencing out of nearly 652 miles where Border Patrol field commanders determined it was operationally required along the Southwest border." By that standard, Gingrich's work is pretty much done.
There is a difference between "operationally required" and "optimal," of course. If Gingrich decided he wanted to spend an unlimited amount of money and completely ignore environmental concerns, he could probably expand the length of the fence even more. The ASB pledge also calls for the existing fence to be doubled, so that you'll have to go through two fences to get across. But if you can hop over one fence, the second one just seems superfluous. The point is that the current perimeter parameters have already been defined by the agencies Gingrich's pledge defers to.
Give Gingrich some credit, though: His new plan would cost tens of billions of dollars less than Herman Cain's proposal to build a 2,000-mile electrified fence.