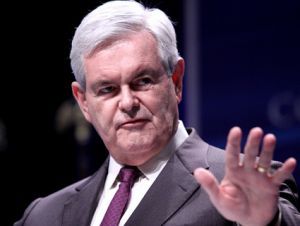 Fight disinformation:
Sign up
for the free
Mother Jones Daily
newsletter and follow the news that matters.
Pressed by Rep. Michele Bachmann (R-Minn.) at Saturday's GOP presidential debate, Newt Gingrich offered a clever explanation for his longtime support for an individual mandate for health insurance. As the former speaker of the House told it, he had supported the mandate in 1993 specifically as an alternative to Hillarycare. The mandate was, he noted, a Republican idea. But "after Hillarycare disappeared…people tried to find other techniques."
There are a couple of problems with Gingrich's alibi, but none more glaring than the fact that he didn't simply abandon the mandate after Hillarycare failed. As David Corn reported, Gingrich was calling for an individual mandate for health insurance as recently as 2007. As Gingrich wrote:
In order to make coverage more accessible, Congress must do more, including passing legislation to: establish a national health insurance marketplace by giving individuals the freedom to shop for insurance plans across state lines; provide low-income families with $1,000 in direct contributions to a health savings account, along with a $2,000 advanced tax credit to purchase an HSA-eligible high-deductible health plan; make premiums for these plans tax deductible; provide tax rebates to small businesses that contribute to their employees' HSAs; extend and expand grant funding to high-risk pools across the country; and require anyone who earns more than $50,000 a year to purchase health insurance or post a bond.
Here's a video of Gingrich pitching his proposal while seated across from Hillary Clinton, herself, in 2005: