Fight disinformation:
Sign up
for the free
Mother Jones Daily
newsletter and follow the news that matters.
A few weeks after the Occupy Wall Street protests began, we found ourselves having a random conversation with a couple of San Franciscans at a store counter. What were these kids going on about? they asked. Time was tight, the inquiry a pleasantry, really. Best to keep it simple. "Jobs, the economy, income inequality." Well, one offered, he knew the wife of Wells Fargo CEO John Stumpf, and according to him, the reason companies aren't hiring is because they are worried about the extra cost of Obama's health care reform.
Stunned silence.
Because what can you really say to that, except…let them eat cake? Stumpf made $17.6 million in 2010—672 times what the average American takes home. And say what you will about Obamacare, but for large companies that already offer health benefits, it imposes pretty much zero costs and might even save money.
But why single out Stumpf, who actually sounds fairly cuddly for a bank CEO? (His hobby is baking bread, for Christ's sake.) Let's turn instead to John Paulson, the billionaire hedge fund manager who unctuously admonished Occupy protesters: "Instead of vilifying our most successful businesses, we should be supporting them and encouraging them to remain in New York City and continue to grow." Or how about the homeless-themed Halloween party thrown by an upstate New York foreclosure mill? Or the financier David Moore, who, having been dressed down by a panhandler for proffering only a dollar, took to the Wall Street Journal op-ed pages to bray about Obama's class-warfare rhetoric: "The president's incendiary message has now reached the streets. His complaints that rich people must 'pay their fair share' have now goaded some of our society's most unfortunate."
Are all of the 1 percent so unmoored from the concerns of ordinary people? We've asked friends in high finance how their colleagues feel about the Occupy protests. Some, we're told, see them as hacky-sacking WTO wannabes, but a more insightful contingent regards the movement as akin to Europe's anti-austerity demonstrations: the understandable yet futile raging of people stranded by the shifting tides of the global economy.
This is a sentiment worth interrogating a bit, for it is a popular one among the Davos class. Sorry, American and European masses: We know you liked secure jobs that paid a living wage and held the promise of a cat-food-free retirement. But, well, that was then. The things you used to make are made elsewhere; now the knowledge economy the pundits wax about has gone global too. You're up against a lot of bright kids in Beijing, Bangalore, and Brasília, and know what? You can't compete.
There's some truth to this. But let's keep in mind that, globalization notwithstanding, the US economy is far wealthier now than it was a couple of decades ago—our GDP per capita is up 24 percent (PDF) just since 1995. The problem is not scarcity; it's that a tiny number of players get rewarded no matter how badly they screw up. Recall that one of the things that gave Occupy Wall Street escape velocity was Bank of America's decision to slap a $5-per-month fee onto everyone's debit card—just as it handed a pair of hapless executives golden parachutes to the tune of $11 million.
"Let me give you a hint that will save you countless hours and millions of dollars spent on consultants and the public relations morons you keep on staff," observed investment adviser Joshua Brown, who blogs at The Reformed Broker. "This is why they hate you. You want to roll your eyes and make snide remarks about 'dumb college kids' and 'socialists'? Go ahead, but you're missing the point. Because it is the small business owner who's really been wronged here, not the fringe elements you mockingly dismiss. The business owner whose losses are not socialized like yours, the business owner without the government in his pocket, the business owner who is forced to play by the rules that you have paid to have written. He's not a hippie, he's not a Marxist…but he's waking up, dummy."
Waking up to what, exactly? In chronicling Occupy Wall Street, it struck us that the protesters, the passersby, and even the cops weren't just pissed about being permanently gated off from the spoils of the über-rich. Oh no. What they were really pissed about is that the megawealthy and Washington have become so symbiotic as to be a single entity. Indeed, Occupy's best move, as conservative blogger/financier Gregory Djerejian noted at TheAtlantic.com, was "directing their ire squarely toward the real elites of the country, rather than their bought-and-paid marionettes sitting in Washington." You didn't have to spend long at the edge of Zuccotti Park before you heard the phrase Citizens United, as folks who'd come to see the camp from New Jersey, Texas, and Montana began to contemplate the connection between their anemic bank accounts and political decisions that line the pockets of those already most advantaged.
Americans are not opposed to the rich getting richer—as John Steinbeck is said to have noted, "Socialism never took root in America because the poor see themselves not as an exploited proletariat but as temporarily embarrassed millionaires." But this prospect only satisfies so long as people believe that with luck and hard work, their ship, or at least their kids' ship, may some day come in. In a system overrun by piracy—a system in which the pirates also, sorry to stretch the metaphor, run the Navy—the dream becomes hard to sustain.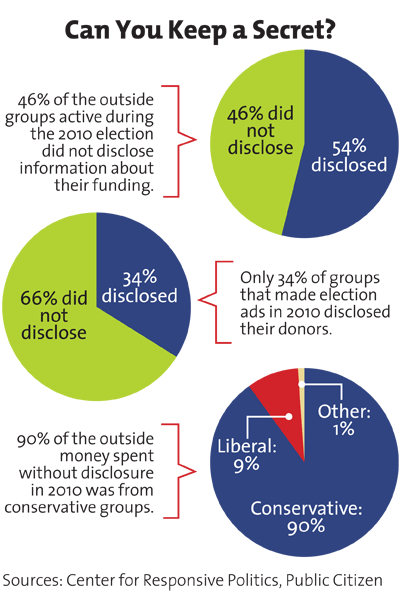 The 1 percent have always had outsize influence, but not since the robber-baron era have they been able to throw their weight around so exuberantly. Our lawmakers might as well wear NASCAR-type logos signaling their corporate sponsors. And you can kiss judicial propriety goodbye when Justices Clarence Thomas and Antonin Scalia dine with the law firm challenging Obamacare on the very day the Supreme Court decides to take the case. That's the selfsame court that cannot brook any restriction on the amount a company (er, person) chooses to spend to influence elections, the selfsame Congress that conveniently can't stomach the most elementary disclosure rules.
Case in point: Campaign spending by the finance, insurance, and real estate sectors has grown about eightfold since 1990 and reached $500 million for the '08 election. On one hand, that sounds like real money; on the other, it's only what Bank of America earns in a week. In any case, it's one of Wall Street's safest bets: Big Finance invests in politicians who enable it to play ever riskier games with other people's money, generating ever more fantastical returns, a tiny portion of which is invested back in political giving, which further cements a favorable regulatory environment…a perfect self-sustaining cycle.
And now, the decades-long crusade by the brightest minds of Washington to turn back the post-Watergate election laws (prompted by oh, say, Archer Daniels Midland CEO Dwayne Andreas stuffing $100,000 in an unmarked envelope for Richard Nixon) has finally triumphed. Brace yourself: The Koch brothers and their fellow gazillionaires are about to make Andreas look like a Boy Scout. When people feel screwed economically and see no redress politically, guess what happens? Boston shopkeepers dump tea in the harbor. Mobs roam the streets of 1863 New York City shouting, "There goes a $300 man!"—the amount wealthy draftees paid to send a poor kid to be cannon fodder in their stead. The Bonus Army encamps in Washington. The petulant wealthy would also do well to remember that part of what precipitated the French Revolution was the nobility's réfus, in the face of desperate pleas from Louis XVI, to consider paying taxes at a time when large portions of the crushingly taxed citizenry were literally starving.
The revolution that preceded that one—ours—sprang from the insight that a just government derives its power from the consent of the governed. And if the Occupy movement has accomplished nothing else, it's provided a vehicle for many people to consider whether anyone actually bothered to obtain their consent before eliminating the basic safeguards of democracy. While the media and political professionals fixated on the movement's lack of demands, they missed the real story. It wasn't about demands; it was about diagnosis.
The occupations provided a catalyst, but the most interesting conversations haven't taken place in the camps via the human mic. They've happened among the millions of people who found that kids in tents were quite effectively articulating their own sense of abandonment. What comes next is the question that should occupy us in 2012, and beyond.