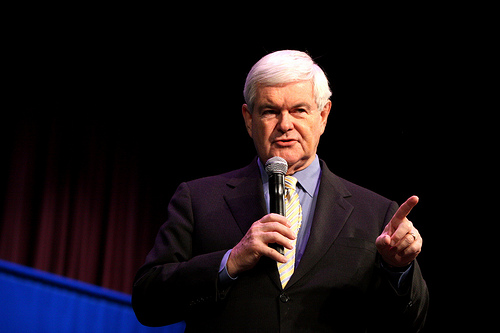 Fight disinformation:
Sign up
for the free
Mother Jones Daily
newsletter and follow the news that matters.
Is Newt Gingrich a Mother Jones reader? You'd be forgiven for thinking so after hearing Gingrich's new line of attack on GOP front-runner Mitt Romney. On the campaign trail in Florida Thursday, Gingrich singled out Romney's dozens of investments Goldman Sachs-run funds for criticism. "Let's be clear: you're watching ads paid for with the money taken from the people of Florida by companies like Goldman Sachs, recycled back into ads to try to stop you from having a choice in this election," Gingrich said in Florida Thursday, according to Politico. "That's what this is all about."
Newt went on:
"The question you have to ask yourself is, what level of gall does it take to think that we collectively are so stupid that somebody who owns lots of stock in Fannie Mae and Freddie Mac, somebody who owns lots of stock in a part of Goldman Sachs that was explicitly foreclosing on Floridians, somebody who is surrounded by lobbyists who made a living protecting Fannie Mae and Freddie Mac, can then build his entire negative campaign in Florida around a series of ads that are just plain false."
Last week, Mother Jones reported that Romney and his wife, Ann, profit off of almost three-dozen investments in funds run by Goldman Sachs in the couple's blind trusts and individual retirement accounts. Though Romney filed his latest personal financial disclosure last August, we were one of the first news outlets to report on his extensive Goldman holdings. The investments are worth between $17.7 million and $50.5 million.
You can read the full story here.