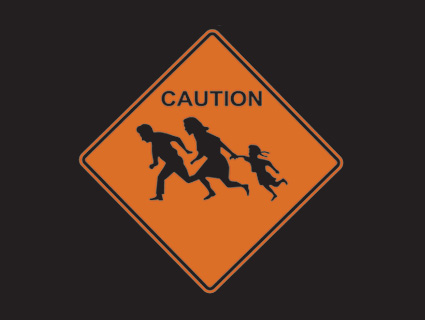 Fight disinformation:
Sign up
for the free
Mother Jones Daily
newsletter and follow the news that matters.
When Mitt Romney was asked how he'd fight illegal immigration in Monday night's GOP debate, he said he advocated "self-deportation." His comment was met with jeers from journalists and pols in my tweet stream—my favorite came from @bartongellman: "Self-deport. I saw that on Star Trek one time"—but it's a real term, the phrase of art, in fact, for the strategy behind the wave of anti-immigration bills introduced across the country in the last two years. The brainchild of anti-immigration groups like the Immigration Law Reform Institute, and its counsel, Kansas Secretary of State Kris Kobach (who recently endorsed Romney), self-deportation is the intended effect of laws and requirements (such as those passed in Arizona and Alabama) that would make it so difficult for undocumented immigrants to work, rent, or go to school that they will simply "choose" to leave. Anti-immigration advocates like this for several reasons: It has a free-market/free-will gloss to it. It purports to save money on deportation costs. And, most importantly, because it relies on states enforcing immigration via passing draconian laws rather than federal law enforcement/border efforts. It's a conservative trifecta!
Update: Adam Serwer elaborates. Read it!