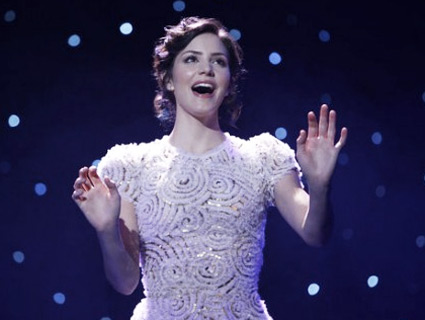 Fight disinformation:
Sign up
for the free
Mother Jones Daily
newsletter and follow the news that matters.
When watching the first two episodes of Smash, it's hard not to feel a little queasy about the predictability factor. In a serial drama centered around the casting and production of a Broadway musical, of course at least one of the two finalists for the lead female role is going to sleep with the director. But at the half-hour mark of the second episode? Really?
The new NBC series is guilty of several other blench-worthy faults: Too much of the dialogue is clunky or hackneyed. Stock characters abound. There's a pesky, croissant-fetching assistant at the center of the action who simply will not go away. The interwoven stories are weighed down by pointless subplots—some disposable (a messy divorce from a rich, bimbo-chasing husband), others even more disposable (a songwriter adopting a baby from mainland China).
Miraculously, none of this prevents the show from being instantly addictive. In fact, Smash might just be NBC's best, most ambitious midseason show since Kings appeared—and quickly disappeared—in Spring 2009.
The hotly anticipated network drama, which premieres February 6 at 10 p.m. EST, kicks off with familiar big-dreams-big-city fare. Karen Cartwright—American Idol alum Katharine McPhee—is a warmhearted twentysomething (you guessed it) waitress from (you guessed it) rural small-town USA, living in (you guessed it) the Big Apple, with a hunger for (…) fame.
After years of fruitless auditions ("Sometimes dreams are hard," Karen tells her simpleton midwesterner parents), she lands a callback for the starring role in a musical based on the life of Marilyn Monroe. The only thing standing in her way is Ivy Lynn (Broadway veteran Megan Hilty), a voluptuous, big-lipped blonde with a cutthroat attitude and a decade and a half of stage experience. So basically, it's the "marry" vs. the "fuck or kill" of the theater universe.
With their rivalry serving as the series' anchor, the show dives into the behind-the-scenes grind of a taking a musical from the drawing board to the Great White Way. Debra Messing and Christian Borle play the intrepid songwriting duo. Oscar winner Anjelica Huston phones it in as Eileen Rand, the gutsy producer. And Jack Davenport—whipping up a debonair, wolfish exaggeration of Sam Mendes—turns in a fine-tuned performance as the British theater/film director.
What makes Smash so watchable isn't the competent acting or the smooth direction (courtesy of Michael Mayer, the man behind the provocative rock musical Spring Awakening); it's the original songs. The Marilyn show tunes range from rousing to peppy, from piano bar to pop-orchestral. "Let Me Be Your Star" is pure Broadway—a crowdpleasing melodic mesh of Stephen Schwartz and Jason Robert Brown that has Hilty and McPhee pushing their dueling harmonies to a stirring timbre. "The National Pastime" is an innuendo-drenched big band romp that gets more toe-tapping with repeat listening.
In one scene, Hilty takes Carrie Underwood's dreadful, bubble-gum-country "Crazy Dreams" and transforms it into a poignant acoustic ballad.
The Theatre-District-certified soundtrack is all thanks to composers (and executive producers) Marc Shaiman and Scott Wittman, two seasoned songwriters whose combined credits include Hairspray, Team America: World Police, "Prop 8: The Musical," and the disturbingly catchy musical coda to Down with Love.
Smash also quietly impresses through its reinvention of modern pop songs. In one scene, Hilty takes Carrie Underwood's dreadful, bubble-gum-country "Crazy Dreams" and transforms it into a poignant acoustic ballad that sounds like it could have been an outtake from Joni Mitchell's Blue.
Because of the pervasive singing and choreography, comparisons to Fox's hit teen dramedy Glee are all but inevitable. Truth be told, comparing the two makes about as much sense as comparing The Thin Red Line to Inglourious Basterds: Glee celebrates the possibility, naïveté, and sentimentality of a fame-obsessed youth, and revels in MTV-style fantasy. Smash plays on the the realities and disappointments of adulthood, and keeps the flights of stage-queen fancy to a bearable minimum.
Judging by the two episodes, the series is on track to overcome its flaws. It has promise, chops, and verve to spare. But this is NBC, where lasting hour-long hits might as well be anathema, and even shows that do manage to make a splash usually fizzle pretty quickly.
There's plenty of reasons to be skeptical, and I might be eating my words very soon. For now, though, there's considerable evidence to suggest that, with Smash, NBC is actually on to something.
And given the network's recent programming, it's about damn time.
Click here for more music features from Mother Jones.