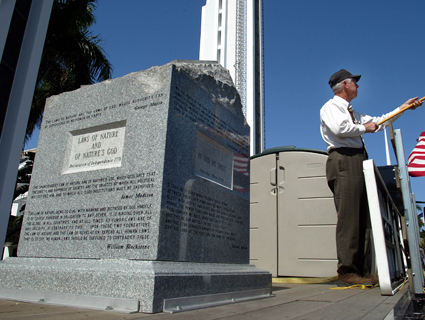 Fight disinformation:
Sign up
for the free
Mother Jones Daily
newsletter and follow the news that matters.
Since being thrown out of office in 2003 for refusing to take down a granite-monument to the Ten Commandments that he'd installed on the steps of the state supreme court, former Alabama chief justice Roy Moore has:
Now he wants his old job back. On Tuesday, Moore will vie with two other candidates for the Republican nomination for a spot on the Alabama supreme court. He will, the Mobile Press-Register reports, ride his horse to the polling station—a venture that's consistent with his theme of returning Alabama to the 19th century and comes just nine months after he broke several ribs in a riding accident (no word on whether it's the same horse).
The race has, understandably, not received as much attention as the GOP presidential primary at the top of the ballot, but judicial elections are serious business, and Moore's no ordinary candidate. His judicial philosophy of a Christian nation, divinely inspired, has endeared him to Teavangelicals and Tenth Amendment activists over the last few years—a not insignificant swath of the electorate in Alabama. (Tellingly, Moore's opponents have been reluctant to criticize Moore for his handling of the Ten Commandments incident on the campaign trail.)
So can he win? The Press-Regiser surveys the race and concludes that he stands a pretty good chance of making it the next round (if no candidate gets a majority of the vote, the top two advance to a special runoff election), but probably no further:
A handful of political experts surveyed last week agreed that Moore's committed base of support could ensure that he makes a runoff. But consensus was that he remains too controversial to win.

"I think the conventional wisdom is Roy has his 30 percent of the vote he's going to get regardless of who his opponent is," said John Carroll, the dean of the Cumberland School of Law at Birmingham's Samford University. "I think it's much more likely he could push one of the other two out of a runoff. I view this (primary) as a way to sort that out between the other two, which I think is unfortunate, but that's the way politics works in Alabama."

In a runoff, Carroll said he is confident that either incumbent Chuck Malone or Mobile County Presiding Circuit Judge Charles Graddick would defeat Moore head-to-head.
Either way, I'd suggest you take 20 minutes today to read Josh Green's definitive profile of a recently defrocked Judge Moore cruising the state with his Ten Commandments rock in 2005.