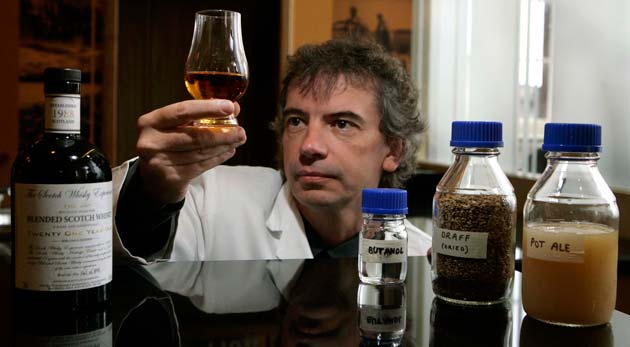 Fight disinformation:
Sign up
for the free
Mother Jones Daily
newsletter and follow the news that matters.
A confession: When I wrote about the environmental footprint of various kinds of booze a while back, I was really hoping that whiskey would turn out to be the greenest. That's because it's far and away my favorite alcoholic beverage, whether served on the rocks in a comfy bar or sipped from a flask, campfire-side. What I found, though, is that the production of whiskey and other spirits requires much more energy than wine or beer. This is especially true in boutique distilleries that use old-fashioned pot-style stills, which make delicious whiskey but are pretty inefficient when it comes to energy use. The distilling process also makes a lot of waste. I found myself ruing the day I ever looked into all this. Who wants to feel guilty about booze, for goodness sake?
Imagine my delight, then, when I learned about a Scottish startup that is poised to make whiskey production greener. Celtic Renewables has figured out how to ferment whiskey waste and turn it into biofuel, along with two other useful products.
Here's how it works: To make Scotch whiskey, you take barley, separate out the sugar, add water and yeast, and ferment it. The result is similar to beer. The next step is to distill the alcohol from that beer in pots. Set it to age in wooden casks, and a few months later, you have whiskey.
The problem is that the process creates a lot of byproduct: First there are the remains of the barley, called draff. And when you distill the alcohol, you're left with a liquid called pot ale, which is hard to dispose of because it contains biological components that can acidify ecosystems, along with traces of copper that are leached from the pots. Celtic Renewables makes a soup out of the pot ale and draff. Then—through a fuel-making fermentation process that was developed during the leadup to World War I but fell out of favor when it couldn't compete with petroleum—the company converts the stuff into biobutanol fuel, animal feed, and acetone.
This isn't the first time someone has thought to turn whiskey waste into energy. A handful of other distilleries, including the American bourbon producer Maker's Mark, use anaerobic digesters to convert waste into biogas, which is then used to fuel the distilling process—a neat little closed-loop system. But Celtic Renewables' process creates three useful substances instead of just one.
When I spoke to the company's founder and chief scientific officer, an Irish industrial microbiologist named Martin Tangney, he excitedly ennumerated the virtues of the byproducts his process produces: As a fuel, biobutanol is 25 percent more efficient than ethanol. Acetone has all kinds of industrial uses—plus, it's a nail-polish remover. The animal feed is rich in protein. (The thought of feeding animals vats of liquor byproduct grossed me out a little, but MoJo food and ag blogger Tom Philpott says it's not necessarily a bad idea—in fact, as he wrote in Grist, people have been doing it for centuries.)
It's not a done deal yet; Tangney, who told me that he was aiming to become the "king of butanol," is still testing his process in the lab, and he hopes the company will build pilot plants sometime next year. But so far, the outlook is good: Celtic Renewables has financing from a well-heeled investor as well as the Scottish government, which recently announced that it will meet all of its energy needs with renewable sources by 2020. If the technology takes off in Scotland, Tangney hopes it export it to other whiskey-producing countries, like India, Japan, and the US.
"You don't need to plant virgin crops to make biodiesel," Tangney told me. "There's plenty of stuff just lying around that you can use." If all of Scotland's distilleries adopted the process, company spokesman Mark Simmers told me, they could make enough biobutanol to power 3 percent of Scotland's cars. Not exactly the answer to our petroleum problems, but it's a stagger in the right direction.