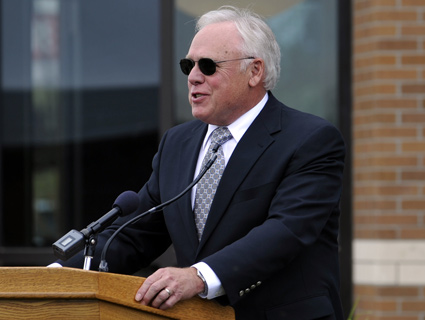 Fight disinformation:
Sign up
for the free
Mother Jones Daily
newsletter and follow the news that matters.
A racist email sent around by Richard Cebull, the chief US district court judge in Montana, not only showed blatant disrespect for the president of the United States but also may have broken federal ethics rules. Cebull, who was appointed to the court by George W. Bush in 2001 and became chief judge in 2008, appears to have violated the US Code of Judicial Conduct on at least one count with his behavior, legal experts say.
Cebull sent the nasty email about President Obama on February 20 to six of his "old buddies," as he put it. The subject line read: "A MOM'S MEMORY." He used his official court email account, according to the Great Falls Tribune, which first exposed the email on Wednesday. "Normally I don't send or forward a lot of these," he wrote, "but even by my standards, it was a bit touching. I want all of my friends to feel what I felt when I read this. Hope it touches your heart like it did mine." The enclosed "joke"—suggesting that the racially mixed president is the spawn of a dog—read:
"A little boy said to his mother; 'Mommy, how come I'm black and you're white?'

"His mother replied, 'Don't even go there Barack! From what I can remember about that party, you're lucky you don't bark!'"
Cebull denies he's a racist, and says that the email wasn't intended to be public. But on Wednesday he admitted publicly that the email was both racist and motivated by partisan politics. "The only reason I can explain it to you is I am not a fan of our president, but this goes beyond not being a fan," he said. "I didn't send it as racist, although that's what it is. I sent it out because it's anti-Obama."
"Cebull's circulation of such a disgusting message makes one wonder if he is competent to serve as a judge."
The US Code of Judicial Conduct mandates that a judge "should personally observe high standards of conduct so that the integrity and independence of the Judiciary are preserved." It also says that a judge "should avoid impropriety and the appearance of impropriety in all activities"—which applies to both professional and personal conduct. With regard to politics, it says judges "should refrain from partisan political activity" and "should not publicly endorse or oppose a partisan political organization or candidate."
Where to draw the line between appropriate and inappropriate speech by judges is a complicated matter, says Jeffrey M. Shaman, a judicial-ethics expert at DePaul University College of Law. But there seems to be little doubt that Cebull crossed over the line. "Offensive, racist speech such as this clearly diminishes public confidence in the integrity and impartiality of the judiciary, and therefore should be considered a violation of the Code of Judicial Conduct," Shaman told me. "Judge Cebull ought to know better, and his circulation of such a disgusting message makes one wonder if he is competent to serve as a judge."
What might the consequences be for Cebull?
"While I certainly see why this type of joke raises serious and legitimate concerns, I am not convinced that it warrants punishment beyond the current (and justified) public criticism," wrote George Washington University legal scholar Jonathan Turley on Thursday. "The judge is claiming that he thought he was sending this to a handful of friends. It would be akin to a bad joke at a party being repeated later."
Turley notes that in 2009 a judicial council cleared Chief Judge Alex Kozinski of the 9th US Circuit Court of wrongdoing after an investigation into sexually explicit materials (involving farm animals) found on the judge's personal website. But the council did officially find that Kozinski had acted with "carelessness" and was "judicially imprudent."
In Cebull's case, Turley concedes that the Montana judge clearly failed to adhere to a tenet of the Code of Judicial Ethics, that a judge "must expect to be the subject of constant public scrutiny and accept freely and willingly restrictions that might be viewed as burdensome by the ordinary citizen."
Shaman sees a serious offense. "It is very difficult to predict what sanctions a reviewing authority will apply in any given case," he says. "But I certainly think that at least a reprimand is appropriate here."
Update, 3 p.m. PST: AP reported that the 9th US Circuit Court of Appeals will carry out a judicial misconduct review. The complaint process apparently was initiated by Cebull himself, who says he also plans to send President Obama a formal apology.
Update, 3/3/12: Cebull has since issued a letter to the president. "I sincerely and profusely apologize to you and your family for the email I forwarded," he writes. "Honestly, I don't know what else I can do," he says toward the end of it. Aparently the White House has not responded.