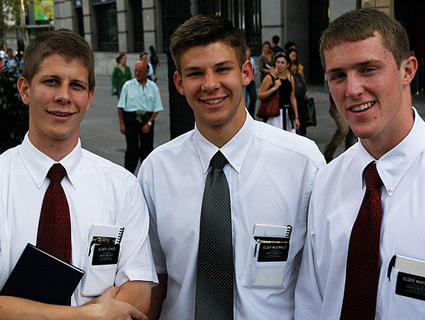 Fight disinformation:
Sign up
for the free
Mother Jones Daily
newsletter and follow the news that matters.
It hasn't been pretty—often, it's been quite ugly—but after racking up three more primary wins in Wisconsin, Maryland, and Washington, DC, on Tuesday, Mitt Romney has almost guaranteed that he will become the first Mormon presidential nominee from a major party. Now the dozens of evangelical pastors across the country who have criticized the former Massachusetts governor's Mormon faith are faced with an awkward (if not painful) choice: Stand their ground against a faith they believe is a "cult"—or cast their lot with the lesser of two evils.
The Mormon issue has been dogging Romney since he began his first presidential race five years ago. According to a Gallup poll, 18 percent of Republicans say they wouldn't vote for a Mormon for president—and it's not a coincidence that throughout the 2012 contest, Romney's success has been inversely proportional to the percentage of evangelicals voting in a given state. (There's even a website, Evangelicals for Mitt, devoted to answering the question, "How Can I Vote For a Mormon?")
But anti-Mormon opposition to Romney has never been uniform, which is why there's no reason to assume it will all vanish before November. This religious-based antipathy falls into several distinct categories. There are conservative Christian pastors who would prefer a candidate who embraces their worldview entirely but will swallow their misgivings if necessary to support ABO (Anyone But Obama). There are black ministers who would sooner stay home than support someone who belongs to a "racist religion." And there are the die-hard anti-Mormons, folks who believe a Mormon president would doom a new generation of Americans to hell.
In other words, it's complicated.
Rick Scarborough, a Baptist minister from Texas, falls squarely in the ABO category. Scarborough, the author of such tracts as Liberalism Kills Kids and Mixing Church and State, coined the term "Christocrat" to describe his political views. He is not a man who feels the need to keep his beliefs under wraps—which is why, in December, Scarborough explained in a radio interview that nominating Romney would take the GOP to "a place I don't want to go." He continued: "There are some aspects of the doctrines of Mormonism that are so outside the realm of normal theological boundaries that I think it will be a real issue if he got the nomination."
Like Robert Jeffress, the Dallas pastor who urged conservative attendees of the Values Voters Summit last October to vote for a "committed follower of Christ," Scarborough's issue with Mormonism is doctrinal in nature—if he thought Mormonism were a legitimate creed, he would be a Mormon. After supporting Santorum (who is Catholic) during the GOP primary, he's now resigned to his fate as a likely Mormon backer. "I think Mormonism is still an issue that makes a lot of evangelicals swallow very hard," he says. "The only thing that makes them swallow harder is the thought of Barack Obama being president four more years."
That isn't to say he's totally sold on Romney, a man he calls "all things to all men." "If he does [win], I will support him, I will encourage others of like mind to do the same," he says. "But we all struggle with Mormonism, which, religiously, we have some real issues with."
"If it's Romney and Obama, as far as I'm concerned, Satan's flipping a two-headed coin and his head's on both sides," says one evangelist.
Bill Keller, a Florida-based internet evangelist who sends his devotional out each morning to some 2.4 million subscribers, is not as ecumenical. Keller became the godfather of sorts for the evangelicals against Romney movement in 2007, when he wrote that a vote for Mitt was "a vote for Satan." That's a hard position to reverse.
By his own admission, Keller's "not real popular within…the professional Christian world" and leaves no room for compromise and detente when it comes to politics. (Scarborough, on the other hand, is quick to point out the efficacy of a Mormon-Evangelical alliance on issues like gay marriage and abortion.) Romney, Keller contends, thinks of himself as a Mormon Chosen One whose presence in the Oval Office would lend credence to the message of bicycle missionaries. That, in turn, means more souls ending up in hell.
"If it's Romney and Obama, as far as I'm concerned, Satan's flipping a two-headed coin and his head's on both sides," Keller says. There's no such thing as lesser of two evils. "I hear that from Christians all the time: Well you know we'll just take the lesser of two evils and hold our nose and vote for the Mormon. And I just try to remind people: The lesser of two evils is still evil."
Keller's not advocating staying home and he's not making an endorsement—but he is open to a third-party candidate. "I know some people say, well, that's throwing your vote away," he says, "but at the end of the day we still have to look at our conscience and be able to sleep at night."
Then there's O'Neal Dozier, a black Republican pastor from Fort Lauderdale—and a Santorum supporter—who convened a press conference in January to announce his opposition to the Mormon front-runner. He hasn't softened his stance over the ensuing three months and is promising to take his fight all the way to November if he has to.
"A nomination of Mitt Romney will destroy the racial divide in this country even more than it has already been done by Obama," Dozier says. "It will destroy the racial divide. Why? Here's the reason why: Mitt Romney's faith is a racist faith. The Mormon faith is a racist faith. The mere fact of his nomination would substantiate and validate in the minds of black people that the Republican Party is racist."
A well-connected Florida GOPer who cut radio ads for George W. Bush in 2004, Dozier doesn't want to see his party set back any more with black voters. That's why even though he abhors what Obama has done in his first three years in the White House, he's content to sit it out come November—and tell his followers to do the same. "This is a race here where if [Romney] becomes the nominee, Obama can get [himself] a bottle of wine and a good cigar and lean back and just mellow out," Dozier says. "He has it all sewed up. I would not support Obama. I'll stay at home."
Regarding the Mormon's church history of racism, Romney has said that when he heard about the church's decision to allow blacks to become priests* in 1978, he pulled over to the side of the road and cried. Dozier's response: Why wasn't he speaking up before that? Nothing short of an open disavowal of Mormonism from Romney would bring Dozier on board.
So how much does any of this matter? Scarborough is quick to note that in the states where evangelicals might be predisposed to shun a Mormon at the polls, Obama doesn't have much of a chance. Tennessee is not part of the Democrat's path to 270. And according to Gallup, liberals are actually more likely to hold Romney's faith against him—a full 27 percent say they would never vote for an LDS member. The larger threat to Romney may have less to do with an overt critique of Mormonism than with the same sentiment that haunted John McCain in 2008—lack of enthusiasm.
"I have people who have told me they'll vote third party or libertarian," says Gary Cass, president of the Christian Anti-Defamation Commission. Cass put out in a statement in January calling on Romney to "renounce the historic Mormon hostility to Christianity," lest evangelicals conclude he really does view them as a band of heretics.
"The only way I can justify" voting for Romney in November, Cass says, "is right now in my own mind is it's a vote against Obama, it's not a vote for Romney." (Cass still plans to vote against Romney in the California primary.) "I'm active nationally, I'm active locally, and I don't see anybody passionate about Romney," he adds.
Then he corrects himself: "Except I have a handful of Mormon friends. They're thrilled."
*Correction: This article originally stated that the Mormon church did not allow blacks into the church until 1978. That was the year African-Americans were allowed to become priests.