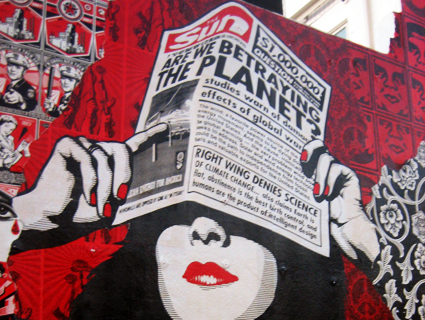 Fight disinformation:
Sign up
for the free
Mother Jones Daily
newsletter and follow the news that matters.
It may not come as much of a surprise that news on the environment drags far behind in popularity compared with, say, news on whether or not Lindsay Lohan wears a bra, but apparently Americans are beginning to realize there's a problem. According to results from a nationwide poll released Thursday, roughly 79 percent of Americans believe environmental news needs a drastic overhaul—both in terms of how much it's being covered and what's making up the conversation.
The poll, conducted by the Project for Improved Environmental Coverage (PIEC), surveyed a thousand Americans by phone last weekend. Four out of five people surveyed agreed that "news coverage should be improved." The results were consistent across variables like age, race, gender, and level of education. "The poll affirms the fact that Americans want better coverage," says Shannon Binns, project manager at PIEC. "They're tired of the gamesmanship and the politics."
Environmental stories currently make up a miniscule fraction of mainstream news coverage in the US. According to the Pew Research Center's Year in News index, only 1 percent of news stories in 2011 covered stories on the environment—down from a whopping 2 percent in 2010. Campaign and election coverage, in contrast, made up roughly 11 percent. And more often than not these stories are relegated to special "environment" sections, which Binns says marginalizes environmental stories instead of integrating them more fully into what we consider news.
"The unique thing about the environment is that it touches on so many other issues. The mainstream media tends to focus on the problems and the controversies around the problems, but really people just want to know how these things are going to affect their lives," says Binns.
So while there is the visibility issue, the bigger problem might be accessibility. To gage this, PIEC tried to tease apart what exactly could make environmental news better. The majority of respondents agreed on several broad answers, ranging from the more abstract—"making the relationship between the environment and other issues more clear"—to more immediately fixable problems like "making environmental news more visible" in top headlines.
But much of the problem, PIEC says, revolves around the fact that the mainstream media insists on providing "balanced" coverage, thereby lending credence to scientifically unsubstantiated points of view. This comes just a week after David Freeman, science editor at the Huffington Post, wrote about a letter to NASA signed by astronauts, engineers, and other non-climate scientists claiming that the organization was overblowing carbon dioxide's role in global warming. Freeman ended his article with an open question to readers: "What do you think? Is NASA pushing 'unsettled science' on global warming?" The result was outrage among enviro bloggers. (According to Scott Rosenberg at Grist, Freeman's was a "ludicrous post that abdicated the very purpose of science writing.") HuffPo ended up pulling the last sentence and adding an editor's note stating that, along with the overwhelming majority of the scientific community, they are not "agnostic on the matter."
Binns emphasizes that this kind of coverage will continue to frame environmental stories in an unproductive, and possibly detrimental, way. "Those kinds of articles are so destructive to public literacy, and just get caught up in the politics," he says. "That's what we continue to see, and public environmental literacy is really driven by the way the mass media treats environmental issues."
But not everyone is getting a failing grade. How about the folks PIEC thinks are doing things right? Among those Binns mentioned: Grist, the SF Chronicle, Michigan Radio, and, of course, Mother Jones.